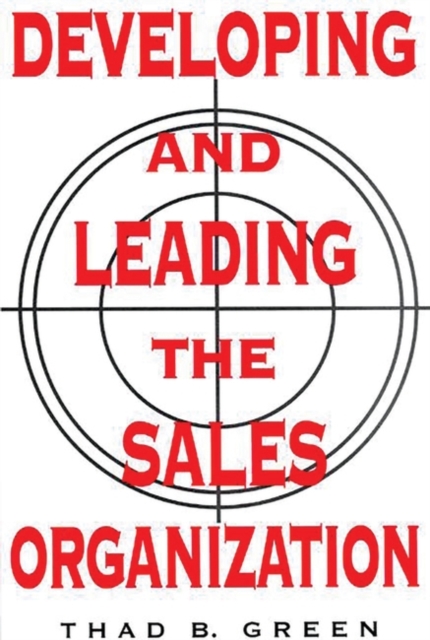 Developing and Leading the Sales Organization
Hardback
Description
Faced with the ever increasing difficulty of reaching their targets, sales executives need new ways to improve their organizations' results.
Thad Green, consultant, former university professor, and widely recognized authority on motivation and performance in the United States, sees it this way: there are two aspects that sales executives have some control over- the way their sales force sells, and the way it is managed and motivated.
Green draws on his extensive experience to explain how to motivate prospects to buy, how to motivate salespeople to sell, and how to prepare and motivate the organization itself.
His method is remarkably obvious, but it works exceptionally well.
Instead of trying to do something different, Green says get back to the basics, but in a way that is all his own.
His book provides this essentially simple but proven method for leading the sales organization in a clear, easily grasped way that sales executives, and their people, can put to immediate use. Green shows sales executives how to improve the sales organization by equipping it with motivation techniques and a full comprehension of the selling process.
His message is clear and proven. Sales results improve dramatically when selling is viewed as motivating people to buy and when sales organizations learn to use this concept.
Sales executives who learn this-and it is definitely not common knowledge, says Green-can pass these techniques to their sales managers, who can then train and motivate the sales force.
It's an approach that in practice sounds right and feels good, Green explains, and it produces results.
It also creates the desire to learn more about motivation and selling, and this in turn will have added benefits.
For people in any occupation involving sales and a knowledge of sales techniques, this book will be a pleasant surprise: a way to understand sales strategies and how an organization can implement them, in a way that few have thought of-a simple way that works.
Information
Format:Hardback
Pages:256 pages
Publisher:Bloomsbury Publishing Plc
Publication Date:18/06/1998
Category:
ISBN:9781567200041
Information
Format:Hardback
Pages:256 pages
Publisher:Bloomsbury Publishing Plc
Publication Date:18/06/1998
Category:
ISBN:9781567200041