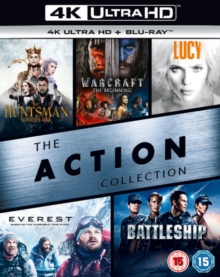 The Action Collection
Blu-ray
Description
Collection of five action films. In 'The Huntsman - Winter's War' (2016) Chris Hemsworth reprises his role as Eric the Huntsman who has been trained by the embittered Ice Queen Freya (Emily Blunt) to become a soldier in her army of deadly hunters.
When she realises that Eric and another, Sara (Jessica Chastain), have broken her one sacred rule - that her huntsmen forever harden their hearts to love, they are banished.
The fate of the kingdom may be in their hands however, when Freya brings her sister, the evil Queen Ravenna (Charlize Theron), back from the dead using the Magic Mirror and their combined power threatens to cast the land into darkness. 'Warcraft: The Beginning' (2016) follows the initial encounters between the humans and orcs as Azeroth stands on the brink of war.
When a dark portal is opened that connects the human-inhabited Azeroth with Draenor, home of the orc clans, the peace of both lands is disrupted.
The warring orcs, whose world is dying, travel to Azeroth to conquer the kingdom of King Llane Wrynn (Dominic Cooper), who must attempt to make peace with this hostile, destructive force.
In 'Lucy' (2014) Scarlett Johansson stars as the titular heroine who finds herself caught up in the dodgy dealings of the Taiwanese mob while living in Taipei.
Forced into becoming a smuggler, she is drugged before a package is inserted into her stomach for safe transit.
Lucy is then severely beaten for protesting her situation which results in the package bursting inside her and leaking into her bloodstream.
As the drug takes over her body, Lucy becomes capable of using a higher brain capacity than humans are naturally accustomed to which makes her able to use telekinesis and absorb knowledge rapidly.
Meanwhile, neurological scientist Professor Norman (Morgan Freeman) takes an interest in Lucy's evolution as she takes revenge on those responsible for her extraordinary transformation and evades those who wish to harness her powers for their own ends. 'Everest' (2015) tells the story of the 1996 climbing expedition in which two groups, led by Rob Hall (Jason Clarke) and Scott Fischer (Jake Gyllenhaal), attempted to reach the summit of Mount Everest.
Although the two groups had plentiful experience and had trained to deal with the adverse conditions and low oxygen levels that are present at such a high altitude, nothing could prepare them for the freak storm which hit during the expedition.
Finally, in 'Battleship' (2012) when US Navy personnel are confronted by an unknown alien structure during war-game trials, they quickly realise the enormity of the threat facing them.
As the aliens unleash a terrifying barrage of destructive force on the Earth's population, Admiral Shane (Liam Neeson), captain of the USS John Paul Jones, finds himself caught up in the fight of his life as he leads a fleet of ships into battle against the seemingly invincible extraterrestrial armada.
Information
Format:Blu-ray
Region:B
Certification:(15)
EAN:5053083126773
Catalogue number:8312677
Studio:Universal Pictures
Release date:25/09/2017
Genre:Action/Adventure
Also directed by Cedric Nicolas-Troyan