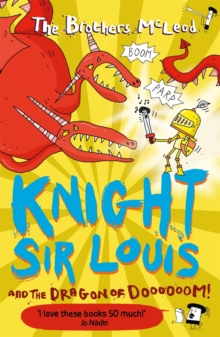 Knight Sir Louis and the Dragon of Doooooom!
Paperback / softback
Description
Knight Sir Louis has defeated dragons, goblins and evil wizards but when he is sent to do battle with Borax the Dragon, even he is not prepared for the mayhem that follows ... The double-headed dragon Borax is causing fiery mischief across the land.
The only hope of stopping the fiendish lizard is a long-lost, ancient Thingamabob (a talisman with watery powers.) Who will find it?
Who will come to the rescue. Well, obviously, Knight Sir Louis and his chums Clunkie the robot horse, Pearlin the Wizentor, Mr Catalogue the talking boar, and Dave the sword with a hat.
Information
Format:Paperback / softback
Publisher:Guppy Publishing Ltd
Publication Date:13/05/2021
Category:
ISBN:9781913101428
Also by The Brothers McLeod
Also in the Knight Sir Louis series