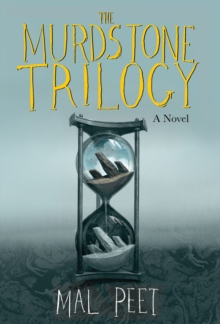 The Murdstone Trilogy
Hardback
Description
Award-winning author Philip Murdstone is in trouble.
His star has waned. The world is leaving him behind. His agent, the beautiful and ruthless Minerva Cinch, convinces him that his only hope is to write a sword-and-sorcery blockbuster.
Unfortunately, Philip - allergic to the faintest trace of Tolkien - is utterly unsuited to the task.
In a dark hour, a dwarfish stranger comes to his rescue.
But the deal he makes with Pocket Wellfair turns out to have Faustian consequences.
The Murdstone Trilogy is a richly black comedy from an author described by one American critic as 'the best writer you've probably never heard of'.
Information
Format: Hardback
Pages: 320 pages
Publisher: David Fickling Books
Publication Date: 06/11/2014
Category: Fantasy
ISBN: 9781910200155
Free Home Delivery
on all orders
Pick up orders
from local bookshops
Reviews
Showing 1 - 3 of 3 reviews.
Review by SandDune
27/08/2015
The first thing you need to know about [The Murdstone Trilogy] is that it isn't a trilogy (and doesn't seem likely to become one in my opinion unless the author pulls a very unexpected plot twist put of the hat). Philip Murdstone is a critically acclaimed writer of children's fiction, with a niche market in books about 'sensitive dippy boys' as his agent Minerva disparagingly puts it. The trouble is, while they might be great literature, they aren't selling and to make matters worse Philip resolutely refuses to do all the stuff that comes with being an author these days: author appearances at Hay-on-Wye, book tours, connecting with readers via a website or Facebook or Twitter are all a complete anathema to him. So Minerva hits on the only solution that can save his career:<i>'Fantasy?' Philip repeated the word in a whisper, as if it were something shockingly filthy that might have been overheard at the neighbouring tables.'Or, to be more precise,' Minerva said, 'High Fantasy. Sometimes spelled Phantasy, with a pee-aitch''And what is that when it's at home in its pyjamas?''Tolkien with knobs on,' Minerva said. 'Necromancers. Dark Forces. Quests. For mystical Objects that have got lost, usually. Goblins, gnomes, faeries, often also spelled with a pee-aitch. Dwarves. Beards. Time and dimension shifts. Books with a deep serious message that no one understands. You know.'</i>So, much against his better judgement Philip tries and fails, and fails again, to write a phantasy novel (with a pee-aitch). Until in despair he has rather too much to drink at the local pub, a guest beer called 'Dark Entropy' being peculiarly responsible, and wandering vaguely about the moor that surrounds his isolated cottage finds himself in the middle of the local stone circle. Where he has what can only be described as a vision: a book that seems to dictate itself word for word directly from his brain onto his computer screen. Unfortunately the vision ends mid-sentence and when Philip tries to repeat the events that caused these unexpected events he encounters Pocket Wellfair, seemingly the narrator of his book, and enters into a rather dubious bargain to be provided with its end. And of course, the book is a great success (think Lord of the Rings and Harry Potter rolled into one): there are film rights and game rights and Philip's life is transformed. But the book is clearly the first part of a trilogy and the publishers want book two, but how can Philip write book two when he didn't write book one. And of course, as anyone who had read any fantasy could have told him, bargains with supernatural creatures are never a good idea …Unfortunately, this wasn't as much my sort of thing as I'd hoped. It had a great review in The Guardian, and it's got great reviews on Amazon, but while it was a fun read I didn't find it as original or inventive as some of the other reviewers clearly do. However, I think some people will like this a lot, and I strongly recommend it for lovers of Terry Prachett.
Review by pierthinker
27/08/2015
The Murdstone Trilogy is a response to all those door-stopper fantasy novels that have taken over the old science fiction category and overflowed into general fiction.Philip Murdstone is a Young Adult author sliding into obscurity. His agent persuades him to write a fantasy novel to reverse his fortunes, even though Murdstone hates fantasy fiction. Mudstone takes the challenge and becomes entwined with creatures from another dimension who supply him with a history of their world that he presents as his novel. Massive success follows. As he looks for further episodes he becomes more deeply involved in this alternate world and realises he has become an integral part in its ongoing war between good and evil.Blackly humorous with hugely exaggerated characters from our world and unfathomable creatures and rituals from another, Peet shows the absurdities of the fantasy genre and reveals much about the work of an author.
Review by lilibrarian
27/08/2015
Author Philip Murdstone's has always written realistic teen novels about sensitive boys. Now they are not selling, and his agent tells him he must write a fantasy. Murdstone hates fantasy, but somehow finds himself enmeshed in an alternate world with a scribe who writes for him.