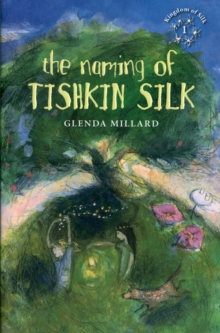 The Naming of Tishkin Silk
Paperback
Description
The first book in the Kingdom of Silk series. Griffin has a secret in his heart that nobody else knows - until he meets Layla.Griffin Silk is from an uncommon sort of family, parents Ben and Annie Silk have a brood of five daughters ('the Rainbow Girls'), a son named Griffin, Griffin's best friend Layla who 'might as well be a Silk', Nell - the 'tiny bit magic' fairy grandmother.
When he meets Layla, a princess with a daisy chain crown, he knows he's found a friend.
So Griffin shares his inner thoughts with her and together they find a way to deal with his secret.
Just like the mythical beast whose name he bears, Griffin discovers he has the courage of a lion.
But it will take a friend like Layla to help him find the answers.
This unique and tender novel is the first book in Glenda Millard's multi-award-winning Kingdom of Silk series, and will touch the heart of every reader.
Through these whimsical, lyrical stories, Glenda Millard writes about families like no other writer writes about families.
The books explore important themes of love, loss, friendships, home and belonging, in ways that pull at the heartstrings but are never over-sentimental.
Honey for the soul. REVIEWS: "Poignant and lovely. Millard has that rare gift of making you feel in a few pages that you've known these characters, and this place, always." -- INDEPENDENT ON SUNDAY (BEST CHILDREN'S BOOKS). "This is a special, lyrical and lovely story. It gives you a vibrant sense of the countryside, and even more, it takes you inside the mind of an ordinary but most extraordinary boy, Griffin Silk.
It will surely touch your heart." -- BERLIE DOHERTY, DOUBLE CARNEGIE MEDAL WINNER. "Soft, dreamy and slightly Bohemian. Sad yet hopeful, it's hard not to shed a tear at the end.
Would read aloud well, engaging discussion. A real surprise. (A book of the week.)" -- PETERS EDUCATIONAL BOOKS. "The Naming of Tishkin Silk is a truly beautiful story of loss, hope, strength and love.
Her depictions of rural Australia are stunning; the reader can nearly feel the heat of the sun through the branches of the apple tree.
A splendid and unforgettable read." -- LIBRARY MICE. "A gorgeous read with some of the best scene setting I've ever read and with a family I adore.
Even better, it's the first in a series!" -- BOOKA UHA'S BOOK NOOK. " 'Griffin came into the Silk family after Scarlet, Indigo, Violet, Amber and Saffron.
He came early in the morning on that uncommon day, the twenty-ninth of February.
His father's prediction, considering the date of Griffin's birth, was that he would be an uncommon sort of boy.' With these words The Naming of Tishkin Silk by Glenda Millard starts weaving gentle magic around your unsuspecting heart. Griffin is a member of the somewhat unusual and perhaps slightly bohemian Silk family, who live on the outskirts of a small Australian town.
Griffin carries a secret deep inside him, a huge worry that he finds hard to share until he meets Layla, instantly recognisable to him as a princess because she is wearing a daisy-chain crown.
Thanks to the thoughtfulness shown by his new friend, Griffin's courage grows and together they do something that heals the sorrow which all the family has felt after a terrible event no-one has been able to talk about for months. Just like Griffin, this is a truly "uncommon" short novel, the first in a seven part series. From unexpected characters to profoundly moving themes threaded together with sometimes astonishingly lyrical writing, this book is something utterly different and incredibly beautiful.
I have never before come across such delicate and yet powerful writing in a novel for children.
Unique, breathtaking and full of fierce love and deep sorrow, The Naming of Tishkin Silk is the sort of book that changes you forever, the sort of book you are just so glad to have inside you, to enrich even the happiest of days and to sustain you on dark nights. The dual aspect of this novel - intense sadness and intense happiness - reminded me of a passage in The Prophet by Khalil Gibran about joy and sorrow; "the deeper that sorrow carves into your being, the more joy you can contain.".
Whilst this book deals with some of the most difficult themes you're likely to come across in books for its target age range (approximately 8-12), Millard does it with such quiet tenderness that it doesn't overwhelm.
Indeed, like the adult characters inside the book, Millard enters the world children inhabit without patronising them, but rather with immense respect, sincerity and creativity. The stories we tell ourselves in an attempt to make sense of the world around us, adjusting to different family setups when new babies are born, sibling jealousy, and the value of having space and taking time to think form some of the varied threads woven throughout this precious book.
Never once soppy or sentimental, Millard writes with honesty and integrity about deep and loving emotions.
This is a tremendous book for exploring kindness and empathy. It's Australian setting is lightly but evocatively worn, grounding the somewhat enchanted story in a very real time and place.
Yes, my praise for this book goes on and on! And yet, when this book first arrived in my home, I shelved it in a dusty corner.
I judged the book by its cover, and the cover did not work for me at all (Caroline Magerl illustrated this first book in the series, but subsequent volumes have been illustrated by Stephen Michael King).
It looked airy-fairy, hippy-dippy, saccharine and syrupy and not like something I would enjoy.
Someone whose judgement I trust, however, kept telling me I should read the book.
Pig-headedly, I kept ignoring this advice. But what a fool I was!Tishkin could have been part of me for two whole extra years if I had listened and not let my prejudices sway me. For once I had read the book, I was utterly smitten.
I could not get hold of the rest of the series quickly enough. If, however, I still had a niggling doubt, it was about how children would respond to these books.
Subtle and yet emotionally complex, featuring an unusual family, and dealing with issues as varied as death, illness, fostering, immigration and dementia over the course of the books now available in the UK (the 6th title in the series, The Tender Moments of Saffron Silk, is published next week on World Book Day, and the final will be available in September this year), I was very curious as to how young people, rather than adults would respond to these books. I only have one child's response to call upon, but M, my ten year old, has taken these stories to her heart as much as I have.
She's read each one in a single sitting, and whilst she agrees they are indeed full of sadness, they are also "really funny and playful", "just the sort of family I want ours to be like". She has SO many plans for implementing aspects of these stories into our lives, from making the recipes which feature throughout the series, to adopting the special breakfast rituals the Silk Family has into our own home, from making our own paper to consecrating an apple tree for tea parties, from collecting shiny foil to painting special poems on walls and doors.
I think I shall be posting our activities, our Kingdom of silk playing by the book for a long time to come on the blog! As it is, we've already got our own green rubber gloves with red nail polish..." -- PLAYING BY THE BOOK.
Information
Format: Paperback
Pages: 96 pages, Illustrations
Publisher: Phoenix Yard Books
Publication Date: 18/02/2013
Category: General
ISBN: 9781907912245
Free Home Delivery
on all orders
Pick up orders
from local bookshops
Also in the Kingdom of Silk series | View all