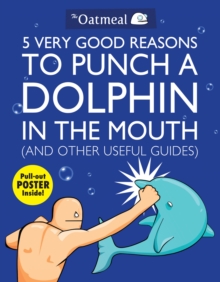 5 Very Good Reasons to Punch a Dolphin in the Mouth (And Other Useful Guides)
Paperback
Description
Cleverly whimsical yet oddly informative, The Oatmeal.com is an immensely popular site full of comics, quizzes and stories.
This collection presents classic favourites as well as all-new hilarity with any never-before-seen comics, such as 8 Reasons to Keep a Canadian as a Pet, 6 Reasons Man Nipples Are Awesome & 5 Reasons to Have Rabies Instead of Babies.
Inman creates these quirky scenes for theoatmeal.com, which launched in July 2009 and already has more than 82 million page views.
In fact, every 15 to 30 seconds, someone Google's one of theoatmeal.com's creations.
Now, 60 of Inman's comic illustrations and life-bending guides are presented in full-colour inside5 Very Good Reasons to Punch a Dolphin in the Mouth (And Other Useful Guides).
Information
Format: Paperback
Pages: 160 pages
Publisher: Andrews McMeel Publishing
Publication Date: 01/03/2011
Category: Cartoons & comic strips
ISBN: 9781449401160
Free Home Delivery
on all orders
Pick up orders
from local bookshops
Reviews
Showing 1 - 5 of 7 reviews.
Previous | Next
Review by lizzybeans11
16/06/2015
If you are a fan of the blog, you'll be a fan of this book. The illustrations are beautiful and the comics are hilarious. Most of my favourites were there, and there is plenty of new content that never appeared online. Plus there is a pull-out poster about Printers being from Hell.
Review by Xenosophy
16/06/2015
As if we need more reasons to punch dolphins in the mouth.This is a hilarious new coffee table book from a website called The Oatmeal.Everything I need to know about life, I learned from this book:(I swear to you, all this stuff is really in it.)1) At the urinal: men groan, talk to each other about drywall and chainsaws, and then congratulate each other on a job well done. I guess the only witnesses are the clouds outside the window...2) All those little clicks and whistles that dolphins make may sound cute, but they are actually vulgar insults. Ergo - It's okay to PUNCH THEM.3) People you really don't know will invite you to their Cat's Birthday just because you are friends on Facebook.4) You can totally get arrested for giving out free hugs...5) Kittens should be prepared for war with samurai swords. All kitties are really ninjas deep inside.6) Knowing this just might save your life - a lion is NOT a pony.7) And most of all: The Bear-0-Dactyl exists!None of the above are the exact quotes or actual images from [book:5 Very Good Reasons to Punch a Dolphin in the Mouth|7830378], but they are the morals of this book. If you want to see them (and believe me - you do), then you will have to get the book yourself. I didn't know about the Oatmeal website before I read this, but I will certainly be visiting it now.This is a compilation of animated short comics from the Oatmeal website. It includes helpful and comprehensive guides to the most common issues of life, including lists of: different types of airline passengers, high fives and when to use them, types of handshakes, crappy pedestrians. Not to mention: a polar bear's guide to making friends, how to ride a pony, why you shouldn't feed your T-Rex cocaine and so much more.The Facebook bit was my favorite. It is a list of all the different types of Facebook trolls, accompanied by illustrations of them and their shenanigans. Not that I would know first hand, since I'm not on Facebook, but the list confirmed most of my sneaking suspicions.This is an igneous comic/picture comedy. I don't even know how to classify this book. Wait, yeah I do. Awesome sauce!! This book is awesome sauce!There are violent, crude, and awkward images. Sexual content and language - but it's all done so tastefully :) I mean, there's even a bit about why bacon is better than true love. Hahahahaha! Its a "bacon" bit!!! Yum...Hilariously informative! The perfect coffee table book for non-prudes, Beavis and Butthead, stressed out people, Bill Murray, sarcastic people, Ben Stein, perky yet dark people, Buffy, apparently anyone whose name starts with a B, and basically anyone who can appreciate non-PG-rated humor.If you have any sense but no sensibilities, or at least if your sensibilities are not easily offended - then read then book.If your senses and sensibilities are sensitive - don't.(I received this as a free review copy from Netgalley. Thanks Netgalley!)
Review by JasonBrownPDX
16/06/2015
Matthew Inman is a genius and The Oatmeal is his brainchild. As a child, I was never a fan of oatmeal, but it was better than cornmeal. Inman altered my reality with the magic of stinging pterodactyl laser piss in my eyes.5 very good reasons to punch a dolphin in the mouth ( and other useful guides ) was a great read. There are a number of classic Oatmeal comics in this book, including "Why Nikola Tesla is the most awesome geek who ever lived", "7 reasons to keep you Tyrannosaur off crack cocaine", and "How to use a semicolon, the most feared punctuation on earth"There are also a number of new comics featured only in the book. "5 reasons to have rabies instead of babies" being the one i enjoyed the most.I cannot say this is a book for everyone. The humor of TheOatmeal is a special brand, If you are unfamiliar, go hit up TheOatmeal.com and get a taste.Brand new it can be purchased at online retailers for under ten bucks, so it is really quite a steal.--xpost RawBlurb.com
Review by MeditationesMartini
16/06/2015
This guy did what the KLF did with pop songs--created a "formula for an instant lowest-common-denominator hit." There's articles about it all over. He's gaming us. Look at the titles of all his books: "Animal + something wacky!" The difference with the KLF is their songs were the opposite of awful.
Review by hovercraftofeels
16/06/2015
This is the first of Inman's, a.k.a The Oatmeal's, collection of comics. There are some very funny ones included and some which fall a little flat, but the book does not fail to entertain. His guides for spelling and grammar are hilarious and very well done. They are definitely my favourite of his creations. One thing does get a little frustrating is his consistent use of the term "retarded" in place of "stupid." While he critiques young people for their crass usage of the term "ghey," there isn't much satirical weight behind the other.
Also in the The Oatmeal series | View all