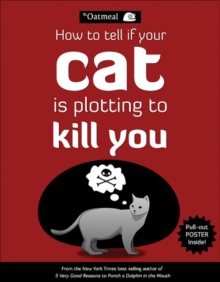 How to Tell If Your Cat Is Plotting to Kill You
Paperback
Description
Brilliantly whimsical yet oddly informative, TheOatmeal.com is an entertainment site full of comics, quizzes, and stories.
Matthew Inman, creator of TheOatmeal.com, is a king of all trades when it comes to the Web.
He writes, draws, and codes everything on the site, and his viral marketing skills make the site a huge success.
How to Tell If Your Cat Is Plotting to Kill Youis a very funny, creative selection of comics, facts, and instructional guides, which all stem from the creative wonderland at TheOatmeal.com.
The book will be designed to create suspense/anticipation with page turns analogous to the experience of scrolling down through the panels on the website.
For example, "Cat vs. Internet" will use page turns to draw out the reader's anticipation of what the crafty kitty might do next to get attention from his Internet-fixated owner.
Other favourite cat comics include "How to Pet a Kitty," "The Bobcats," and "17 Things Worth Knowing About Your Cat." A pull-out poster will be included at the back of the book.
Information
Format: Paperback
Pages: 136 pages, Cartoons
Publisher: Andrews McMeel Publishing
Publication Date: 09/10/2012
Category: Humour
ISBN: 9781449410247
Other Formats
EPUB from £7.19
PDF from £7.19
Free Home Delivery
on all orders
Pick up orders
from local bookshops
Reviews
Showing 1 - 5 of 27 reviews.
Previous | Next
Review by cannellfan
16/06/2015
Saw this at my library and laughed at a couple of randomly-selected pages, so I gave it a shot. In the end, while there were certainly some funny bits here and there, the crassness of the "Bobs" section, which takes up over 50% of the content of the book, detracted from the otherwise funny bits to the point that I find that I can't really recommended it. Too bad...when the material is funny, it's REALLY funny. Unfortunately, when it's boring and tasteless, it's REALLY boring and tasteless.
Review by lycomayflower
16/06/2015
Husbeast brought this home for me as a surprise from his weekend trip. A series of comics about cats. Does what it says on the tin and is hilarious. Laugh out loud funny. Recommended for a giggle.
Review by librarydanielle
16/06/2015
omfg, this book is hilarious.<br/>And I know my cats are plotting to kill me. As long as I continue to provide the gooshy food I've got a temporary reprieve though.
Review by LaneLiterati
16/06/2015
This can be a funny read, especially if you are an owner of cats or love animals in general. Finding every action of a cat as a way of overthrowing humanity's reign was funny at times.
Review by shanaqui
16/06/2015
I did not buy this. Matthew Inman is a jerk, as proved when for disagreeing with him, I got showered with abuse from thousands of his followers who he set on me for three days. You wouldn't believe the misogynistic, homophobic crap they spouted at me and which he encouraged. I won't repeat it, but it was the usual sort of thing.<br/><br/>Unfortunately, I used to like reading his stuff, so I was tempted by this and flicked through. I do think it'd be a good gift for someone if you don't mind throwing money (and therefore support and implicit approval) in this guy's direction: there is nothing of the homophobic/misogynistic/bullying behaviour here. Just stuff about cats. His bit about how to tell cats are planning to kill you has always struck me as pretty true.<br/><br/>His humour does get pretty repetitive, though.