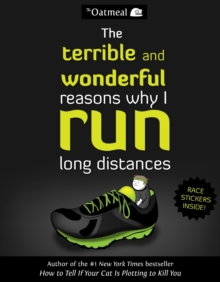 Terrible and Wonderful Reasons Why I Run Long Distances
Paperback
Description
This is not just a book about running. It's a book about cupcakes. It's a book about suffering. It's a book about gluttony, vanity, bliss, electrical storms, ranch dressing, and Godzilla.
It's a book about all the terrible and wonderful reasons we wake up each day and propel our bodies through rain, shine, heaven, and hell.
From #1 New York Times best-selling author, Matthew Inman, AKA The Oatmeal, comes this hilarious, beautiful, poignant collection of comics and stories about running, eating, and one cartoonist's reasons for jogging across mountains until his toenails fall off.
Containing over 70 pages of never-before-seen material, including "A Lazy Cartoonist's Guide to Becoming a Runner" and "The Blerch's Guide to Dieting," this book also comes with Blerch race stickers.
Information
Format: Paperback
Pages: 148 pages, Full colour
Publisher: Andrews McMeel Publishing
Publication Date: 30/09/2014
Category: Cartoons & comic strips
ISBN: 9781449459956
Other Formats
EPUB from £7.19
PDF from £7.19
Free Home Delivery
on all orders
Pick up orders
from local bookshops
Reviews
Showing 1 - 2 of 2 reviews.
Review by imyril
16/06/2015
This little gem had me giggling from start to finish, with its luminous illustrations and deft insights into the terrible things that drive us couch potatoes to don running shoes and go in search of endorphin highs. Highly entertaining.
Review by zzshupinga
16/06/2015
ARC provided by NetGalleyMatthew Inman, AKA The Oatmeal, has become synonymous with becoming a voice for a generation. Creating images that capture why cats are taking over the world, rescuing Tesla's laboratory and bringing him back to light, and standing up for creators that have had images stolen and making shady lawyers look crazy. Now he brings his focus to running. To exercise. To suffering to get where you want to be.I have to admit when I saw the description of the book, I honestly thought it was....well a bit of a money grab. I mean the original comic inspiration behind the book is great, don't get me wrong, but how the heck could he write an entire book about it? And...now Inman is making me eat my words. Because the book is again one that we can all relate to. Not of being the super in shape person that makes the rest of the world miserable. But about being that everyday person that struggles with wanting to not be a couch potato, but at the same time not having to get up at 5 in the morning and run and never eating sweet things again. It's about the struggle to maintain, the struggle to keep going, no matter what it looks like outside or how we feel. Its less about running, but more about the struggle to keep going to meet our own dreams headon. And to inspire us to achieve them.To Mr. Inman I raise a glass of tea, in thanks for making me eat my words, and for the encouragement, and challenge, of meeting my goals headon. I give the book 4 out of 5 stars.