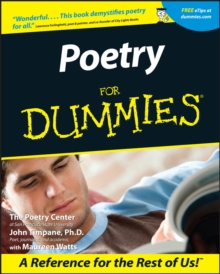 Poetry for Dummies
Paperback
Description
Sometimes it seems like there are as many definitions of poetry as there are poems.
Coleridge defined poetry as "the best words in the best order." St.
Augustine called it "the Devil's wine." For Shelley, poetry was "the record of the best and happiest moments of the happiest and best minds." But no matter how you define it, poetry has exercised a hold upon the hearts and minds of people for more than five millennia.
That's because for the attentive reader, poetry has the power to send chills shooting down the spine and lightning bolts flashing in the brain - to throw open the doors of perception and hone our sensibilities to a scalpel's edge.
Poetry For Dummies is a great guide to reading and writing poems, not only for beginners, but for anyone interested in verse. From Homer to Basho, Chaucer to Rumi, Shelley to Ginsberg, it introduces you to poetry's greatest practitioners.
It arms you with the tools you need to understand and appreciate poetry in all its forms, and to explore your own talent as a poet. Discover how to: *Understand poetic language and forms *Interpret poems *Get a handle on poetry through the ages *Find poetry readings near you *Write your own poems *Shop your work around to publishers Don't know the difference between an iamb and a trochee?
Worry not, this friendly guide demystifies the jargon, and it covers a lot more ground besides, including: *Understanding subject, tone, narrative; and poetic language *Mastering the three steps to interpretation *Facing the challenges of older poetry *Exploring 5,000 years of verse, from Mesopotamia to the global village *Writing open-form poetry *Working with traditional forms of verse *Writing exercises for aspiring poets *Getting published From Sappho to Clark Coolidge, and just about everyone in between, Poetry For Dummies puts you in touch with the greats of modern and ancient poetry.
Need guidance on composing a ghazal, a tanka, a sestina, or a psalm?
This is the book for you.
Free Home Delivery
on all orders
Pick up orders
from local bookshops
Reviews
Showing 1 - 1 of 1 reviews.
Review by ValerieAndBooks
16/06/2015
I wanted more background knowledge of poetry; so I recently bought "Poetry for Dummies" by The Poetry Center, John Timpane, Ph.D, and Maureen Watts. This is even though I hate the word "dummies" in their various reference books.So, was "Poetry for Dummies" worth it? Yes! I learned quite a bit from this book. People who already are very familiar with poetry may find parts of this book to be very basic, however. This book is organized in five parts; each part has a few chapters. I'll share at least one tidbit from each part.Part I is about reading and understanding poetry. How to start finding what you like? Check out books of poetry from the library. Browse through poetry books in bookstores (and, I recommend used bookstores as well!). Poetry is meant to be read aloud to be fully appreciated and understood, which is a new concept to me. You should read a poem through silently, at least once. If the poem has grabbed you, then definitely read it aloud. There are also tips on understanding subject, tone (what type of emotion does the poem convey?), and narrative. Tools of language are discussed. This would include forms of verses such as anapest, iamb, and so on; along with visual rhythm (the shape of words and lines). Rhythm is the pattern of syllables in a line of verse; meter is pre-measured patterns of syllables. As the book says: "Rhythm is not the same as meter. The difference between rhythm and meter is the difference between the beat of a song and the rhythms played over that beat".How to interpret a poem? Many of us are familiar with the poem "Richard Cory" by Edward Arlington Robinson. I remember it being discussed in English class when I was in college. "Richard Cory" is one example used here to show us how to interpret a poem: to understand the literal; to consider what is implied; and to build an interpretation based on what we think is implied.Part II discusses poetic history. The earliest known poetry is from the pre-Homeric period (3,000 BC to 1,000 BC), from the Mesopotamian culture. "Gilgamesh" is one example from this era.I learned what the Romantic period (early 19th century) is: "Some readers get confused by the term Romantic. People in the Romantic period weren't any more inclined to love than those who lived in other periods. The word Romantic came to mean a new, often revolutionary outlook, emphasizing the importance of personal emotions, the inspiration of the artist…..unity with nature (which in some writers almost became a religion). Some of these developments came about as a reaction to the industrial revolution". Percy Bysshe Shelley and Lord Byron are examples of Romantic Period poets. Part III discusses writing poetry and advice for aspiring poets; including getting published. I'm not at that point yet, although it has made me think I should try writing poetry (solely for the challenge and fun of it). Nevertheless, I got behind-the-scenes views of writing and publishing poetry. There are pointers on writing various forms of poetry; examples that range from sonnets, ghazals, and open-form (also known as free verse). Interestingly, this book prefers to use the term "open-form poetry" as opposed to "free verse". As it states: "Open form allows poets to do nearly anything that can be done with language — the poet has more options with this kind of poetry. Open forms have rhythm, music, and even some rhyme, but the poet keeps those aspects changing and changeable throughout the poem".Part IV is is the Part of Tens: ten myths about poets and poetry (i.e. one myth is that "poetry is for soft and sensitive types"); ten poems worth memorizing (i.e. Psalms 23 in the King James Bible or "Kubla Khan" by Samuel Taylor Coleridge…I'm already familiar with both of these; and love them — although I've never totally memorized either!!), and so on.Finally, Part V includes several appendixes: a glossary; a poetry timeline; various resources (organizations, magazines, events, suggested books, websites). This section alone is a very useful jumping-off point for appreciating poetry. It should be noted that because this book was first published in 2001, some of the information (especially for publications and websites) may no longer be current.I feel that "Poetry for Dummies" has given me a good, basic background for appreciating poetry; and has provided good resources for more information. This doesn't just include scholarly information; but now I want to check out more poets and forms of poetry!
Also by The Poetry Center