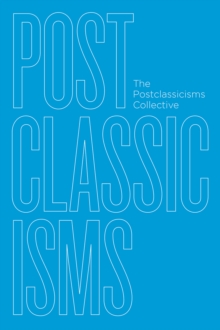 Description
Made up of nine prominent scholars from three continents, The Postclassicisms Collective aims to map a space for theorizing and reflecting on the values attributed to antiquity.
The product of these reflections, Postclassicisms takes up a set of questions about what it means to know and care about Greco-Roman antiquity in our turbulent world and offers suggestions for a discipline in transformation, as new communities are being built around the study of the ancient Greco-Roman world. Structured around three primary concepts-value, time, and responsibility-and nine additional concepts, Postclassicisms asks scholars to reflect upon why they choose to work in classics, to examine how proximity to and distance from antiquity has been--and continues to be--figured, and to consider what they seek to accomplish within their own scholarly practices.
Together, the authors argue that a stronger critical self-awareness, an enhanced sense of the intellectual history of the methods of Classics, and a greater understanding of the ethical and political implications of the decisions that the discipline makes will lead to a more engaged intellectual life, both for classicists and, ultimately, for society.
An (un)timely intervention into the present and future of the discipline, Postclassicisms will be required reading for professional classicists and students alike and a model for collaborative disciplinary intervention by scholars in other fields.
Information
Format: Hardback
Pages: 256 pages
Publisher: The University of Chicago Press
Publication Date: 27/12/2019
ISBN: 9780226672281
Other Formats
Paperback / softback from £21.59
Also by The Postclassicisms Collective