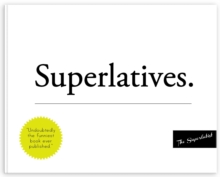 Superlatives : The Funniest Book Ever Published
Hardback
Description
The 21st century is, undoubtedly, the century of exaggeration.
Everywhere you look, people are exaggerating things.
You can't turn your head without seeing another advert for the fastest car, the smoothest shave, the tightest trousers. "You ate all the pies," chant the football fans. "I am without doubt the person who's been the most persecuted in the entire history of the world and the history of man," opines Silvio Berlesconi.
Everyone's at it. We live in superlative times. The Superlatist is the greatest exaggerator of them all.
Armed with nothing but an iPhone, he has travelled up and down the country photographing his own personal world of exaggeration.
Let him guide you through it: the greatest journey you'll ever make.
Along the way, you'll learn about the world's best marketing campaign, the world's saddest cake, and the world's most humiliating product endorsement.
You'll meet the world's most eligible bachelors, the world's hardest bastard, and the world's least appropriate children's protagonist.
Free Home Delivery
on all orders
Pick up orders
from local bookshops