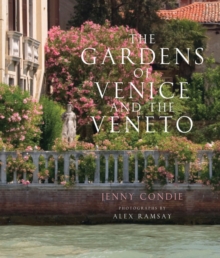 The The Gardens of Venice and the Veneto
Hardback
Description
The Gardens of Venice and the Veneto draws together an amazing variety of spellbinding garden retreats, from monastery gardens quietly cultivated in the islands of the lagoon to magnificent villas on the Brenta Canal, and baroque masterpieces in the hills beyond.
Highlights include an eerie Masonic garden complete with gothic chapel and cavernous grottoes, a pleasure garden made for his workers by a benevolent nineteenth-century industrialist, and a flower-filled delight by the banks of the Grand Canal.
This is a book of ravishing images and intriguing stories.
The garden behind Henry James's Aspern Papers is here, along with the garden which so beguiled Margaret Symonds, the young English author of Days Spent on a Doge's Farm.
With an emphasis on gardens that can be visited, longtime resident Jenny Condie elucidates the dynastic triumphs, the reversals of fortune, and the shifts in taste and influence which have shaped these extraordinary places.
Free Home Delivery
on all orders
Pick up orders
from local bookshops