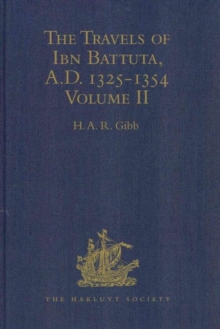 The Travels of Ibn Battuta, A.D. 1325-1354 : Volume II
Hardback
Description
Ibn Battuta was born in Tangier in 1304. Between 1324 and 1354 he journeyed through North Africa and Asia Minor and as far as China.
On a separate voyage he crossed the Sahara to the Muslim lands of West Africa.
His journeys are estimated to have covered over 75,000 miles and he is the only medieval traveller known to have visited every Muslim state of the time, besides the 'infidel' countries of Istanbul, Ceylon and China.
The first volume recorded Ibn Battuta's earliest journeys through Tunisia, Egypt, Syria and Arabia.
This volume continues with his journeys through Persia, Iraq and Arabia, Asia Minor and South Russia with detailed descriptions of the towns on the way and the customs of the inhabitants.
Sir Hamilton Gibb's edition comprises four volumes with introduction and full notes.
This first complete and scholarly edition in English has proved essential to orientalists and illuminating to medievalists.
The travels are a major source for the political and economic life of large regions of Asia and Africa.
The observations of this intelligent representative of Islamic culture on almost all the known inhabited world beyond Europe provide fruitful comparisons with the life and geographical knowledge of the West. Translated with revisions and new annotation from the Arabic text edited by C.
Defremery and B.R. Sanguinetti. Continued from Second Series 110, with continuous main pagination.
Covering southern Persia, Iraq, southern Arabia, East Africa, the Persian Gulf, Asia Minor and South Russia.
Continued in Second Series 141 and 178, with index in 190. This is a new print-on-demand hardback edition of the volume first published in 1962.
Information
Format: Hardback
Pages: 296 pages
Publisher: Taylor & Francis Ltd
Publication Date: 28/07/2010
Category: Literary studies: general
ISBN: 9781409414834
Free Home Delivery
on all orders
Pick up orders
from local bookshops