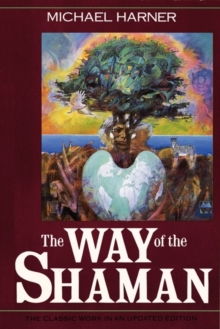 The Way of the Shaman
Paperback
Description
Ten years after it was first published, this is still the leading resource and reference for all those interested in cross-cultural and current forms of shamanism--now with a new introduction and a list of current shamanic resources.
Free Home Delivery
on all orders
Pick up orders
from local bookshops
Reviews
Showing 1 - 5 of 7 reviews.
Previous | Next
Review by lyricalnomad
16/06/2015
If you want a good overview of what to expect from lower level shamanic journeying then this book certainly delivers. Harner is a reputable source for information and of course gives really valuable advice for handling the journey. The only thing that I am not enamoured of is his experiences with journeying that almost always include some form of mind altering subtance. This isn't the way it is practiced in the west and I find this aspect of his sharing counterproductive (since the drugs aren't necessary to have powerful and meaningful experiences). If you have never journeyed though, I can recommend this book for practical advice for beginners.
Review by hearthfirecircle
16/06/2015
Fairly good introduction to Shamanism from the perspective of the anthropologist. However, it was only of moderative use for me in learning how to incorporate Shamanism into my personal practice.
Review by irishkitsune
16/06/2015
This is an older book about shamanism (ca. 1980), and it really started the whole neo-shamanistic revival in the past decades. I would start here if you're interested in shamanism, as it really provided inspiration to a lot of other modern writers on the subject.
Review by Loptsson
16/06/2015
An interesting book which mixes experience and practice to give an excellent primer on the subject of shamanism. Although the discussions on tribal methods and how to use them yourself is fascinating in its own right, I found the beginning of the book which details his own experiences among the native shamans to be the best part of the book. Some may feel that the use of drugs to achieve altered states (which he has described using himself in his experiences) to be non useful and perhaps counterproductive, but I would say that its inclusion is necessary because every tribal group had its own way of getting into the spirit world and to give a complete picture you need its inclusion in the discussion. His own experience using these drugs is crucial to the argument because it truly gives him an insider point of view rather than simply being an observer. The fact that he knew he was about to die in his first experience and he barely was able to make his plead vocal to the indians should be more than enough to keep some people from simply trying to attempt it on their own. All cases he experienced with drugs he states that there were others there to keep restraint and watch over the individual going under, these folks knew what they were doing. All in all a good read and I would suggest Mircea Eliade's works as choice material to study after one reads this book.
Review by copperbeech
16/06/2015
While I truly appreciate the information and insight Harner has brought to the west, his writing is amazingly academic and cerebral. If you are seeking an experiential glimpse of shamanism or a more instructional text, this book is not it. To learn *why* shamanism, absorb every page.