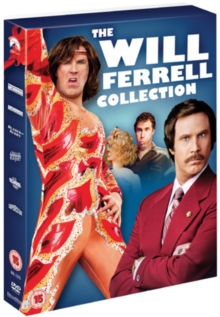 The Will Ferrell Collection
DVD
Description
Six comedies starring Will Ferrell. In 'Anchorman - The Legend of Ron Burgundy' (2004), Ferrell stars as Ron Burgundy, a top-rated 1970s San Diego anchorman who believes women have a place in the newsroom - so long as they stick to covering fashion shows or late-breaking cooking news, that is.
So when Ron is told he'll be working with a bright young newswoman, Veronica Corningstone (Christina Applegate), who's beautiful, ambitious, and intelligent enough to be more than eye candy, it's not just a clash of two TV people with really great hair: it's war. 'Wake Up Ron Burgundy' (2004) is an 'alternate film' companion to 'Anchorman: The Legend of Ron Burgundy', compiled from hours of extra footage, dropped sub-plots and alternate takes from the original film.
In 'Blades of Glory' (2007), rival figure skaters Chaz Michael Michaels (Ferrell) and Jimmy McElroy (Jon Heder) are stripped of their gold gongs and banned from the sport for life after fighting on an Olympic podium in front of the world's press.
Several years down the line, they're reduced to IceCapades-type ice theatre shows and hating it.
There's one loophole that might get them back into competing but it involves them pairing up and becoming the first male-male pair in world figure skating.
Their macho male egos are only two of the obstacles they need to overcome, and hating each other's guts certainly doesn't help.
In 'A Night at the Roxbury' (1998), Steve and Doug Butabi (Ferrell and Chris Kattan) are a pair of hopeless losers, forever dreaming that one day they will be cool enough to make the guest list of their favourite club, the Roxbury.
They seem to have secured their access-all-areas pass after their car is crashed into by an ultra-cool Roxbury regular, who will grant them anything to avoid litigation.
However, once they have gained entry to the hallowed venue, the pressure is on to act in a manner befitting their surroundings.
In 'Superstar' (1999), Mary Katherine Gallagher (Molly Shannon) is a teenage schoolgirl desperate to get a Hollywood style kiss from somone at her school.
But no one will help her. So she decides to act like her Hollywood idols and enters a talent contest, sponsored by Catholic Teen Magazine, in order to fulfil her lifetime dream.
Ferrell plays Sky Corrigan, the object of Mary Katherine's affections.
In 'Old School' (2003), starring Ferrell, Luke Wilson and Vince Vaughn, Mitch (Wilson) catches the early flight home after a business trip and finds his wife (Juliette Lewis) in bed with a room full of naked strangers.
He moves out and rents a house near the campus of his old college.
With the help of his two best friends (both married and with kids), he gets down to serious partying.
However, their partying soon attracts the students of the college - and the anger of the dean of the college who tries to make Mitch's neighbourhood a student-only area.
To counter this, the friends form a fraternity with its headquarters at Mitch's house, but their high jinks begin to take their toll on Mitch's potential love life.
Information
Format:DVD
Region:2
Certification:(15)
EAN:5051188157531
Catalogue number:DSL1575
Studio:DreamWorks Live Action
Release date:21/09/2009
Genre:Comedy
Colour:Colour