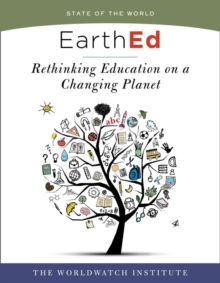 EarthEd : Rethinking Education on a Changing Planet (State of the World)
Paperback / softback
Description
Earth education is traditionally confined to specific topics: ecoliteracy, outdoor education, environmental science.
But in the coming century, on track to be the warmest in human history, every aspect of human life will be affected by our changing planet.
Emerging diseases, food shortages, drought, and waterlogged cities are just some of the unprecedented challenges that today's students will face.
How do we prepare 9.5 billion people for life in the Anthropocene, to thrive in this uncharted and more chaotic future?
Answers are being developed in universities, preschools, professional schools, and even prisons around the world.
In the latest volume of State of the World, a diverse group of education experts share innovative approaches to teaching and learning in a new era.
Topics include systems thinking for children; the importance of play in early education; social emotional learning; comprehensive sexuality education; indigenous knowledge; sustainable business; medical training to treat the whole person; teaching law in the Anthropocene; and more.EarthEd addresses schooling at all levels of development, from preschool to professional. Its lessons can inform teachers, policy makers, school administrators, community leaders, parents, and students alike. And its vision will inspire anyone who wants to prepare students not only for the storms ahead but to become the next generation of sustainability leaders.
Information
Format:Paperback / softback
Pages:376 pages, 30 photographs, 30 illustrations
Publisher:Island Press
Publication Date:01/09/2017
Category:
ISBN:9781610918428
Also by The Worldwatch Institute | View all