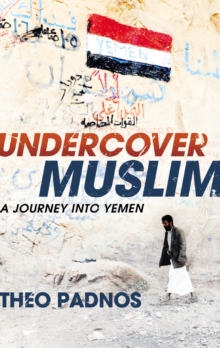 Undercover Muslim : A Journey into Yemen
Paperback
Description
In December 2009 the US government launched an air strike against the tiny Yemeni village of al-Majalah where al-Qaeda militants were believed to be in hiding.
A second attack a week later targeted the prominent religious leader Anwar Awlaki.
He escaped unharmed but many villagers were killed. These two strikes were intended to set back al-Qaeda's operations in Yemen but, within 24 hours, Umar Farouk Abdulmutallab - a 23-year-old Nigerian man and one of Awlaki's followers - boarded a plane to Detroit with explosives hidden in his clothing.
His is not a unique story: at a time when true pluralism remains an aspiration rather than a reality in the West, young men, disillusioned and angry with the spiritually barren, consumerist societies in which they live, travel to Yemen in search of fulfilment.
There, in the country's anarchic wilderness, they find what they could not at home: a pure way of life, submissive wives and like-minded brethren.
Some, like Abdulmutallab, find something much more dangerous: the conviction to carry out Jihad.
In Undercover Muslim, Theo Padnos brilliantly evokes a landscape and journey that few Westerners have experienced. He investigates the radicalisation of these disaffected young men as they move, almost unnoticed, from London, Berlin or Paris to their new spiritual home in Yemen.
Padnos's journey takes him from the newsroom of a Yemeni newspaper to the prayer rows and lecture rooms of Yemen's madrassas, from covert Jeep rides into the sacred mountains to a stint in an overcrowded prison.
It is through these events, and through the people he encounters, that Padnos shows us how a terrifying gulf has opened between Islam and the West.
Information
Format: Paperback
Pages: 304 pages
Publisher: Vintage Publishing
Publication Date: 01/07/2011
Category: Islam
ISBN: 9781847920843
Free Home Delivery
on all orders
Pick up orders
from local bookshops
Reviews
Showing 1 - 1 of 1 reviews.
Review by starbox
27/01/2016
"The Yemeni mountains...where all the most dedicated voyagers of the spirit eventually go",, 8 October 2015This review is from: Undercover Muslim: A Journey into Yemen (Kindle Edition)Fascinating book written by an American author. While teaching English in a prison in Vermont, he became interested in the American Taliban, John Lindh, and decided to leave what seemed like a pointless job."Instead of bidding young men goodbye as they disappeared into the correctional system, I would find young men out in the world, now, on the road. They would be Muslim searchers like Lindh, and their roads would be the high altitude footpaths of the Islamic world. I would meet them before they had committed any crimes, when they were just mulling things over in their minds. How best to live? Should I kill? Why?Whom? I would listen to their discussions, take notes and if they asked for my advice, i would give it."This, then, is the starting point for Padnos' journey to Yemen After spending time in the capital, San'a, learning Arabic and working on a paper, Padnos realises that he can't fully understand the people until he converts....and thus he ends up in the mountains at Dammaj, an Islamic school.Here we read of the other students, many of them European, and their motivations and feelings.One thing that was never clarified were the author's own feelings on Islam. Was the whole thing just a means of going undercover or was he left with at least some belief in the religion? I veered between positive and negative feelings towards the Muslims in this book.Gave me a great impression of Yemen: not heavy going at all, but very interesting.