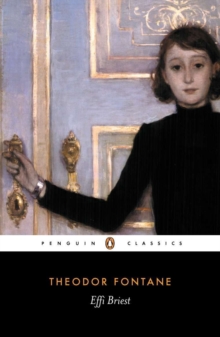 Description
Telling the tragic tale of a socially advantageous but emotionally ruinous match, Theodor Fontane's Effi Briest is translated from the German by Hugh Rorrison with an introduction by Helen Chambers in Penguin Classics.Unworldly young Effi Briest is married off to Baron von Innstetten, an austere and ambitious civil servant twice her age, who has little time for his new wife.
Isolated and bored, Effi finds comfort and distraction in a brief liaison with Major Crampas, a married man with a dangerous reputation.
But years later, when Effi has almost forgotten her affair, the secret returns to haunt her - with fatal consequences.
In taut, ironic prose Fontane depicts a world where sexuality and the will to enjoy life are stifled by vain pretences of civilization, and the obligations of circumstance.
Considered to be his greatest novel, this is a humane, unsentimental portrait of a young woman torn between her duties as a wife and mother and the instincts of her heart.Hugh Rorrison's clear, modern translation is accompanied by an introduction by Helen Chambers, which compares Effi with other literary heroines such as Emma Bovary and Anna Karenina.Theodor Fontane (1819-98) was a German novelist and potitical reporter.
Along with Effi Briest, Fontane is remembered for Frau Jenny Treibel (1892), an ironic criticism of middle-class hypocrisy and small-mindedness.If you enjoyed Effi Briest you may like Leo Tolstoy's Anna Karenina, also available in Penguin Classics.'I have been haunted by it ... as I am by those novels that seem to do more than they say, to induce strong emotions that can't quite be accounted for' Hermione Lee, Sunday Times
Information
Format: Paperback
Pages: 256 pages
Publisher: Penguin Books Ltd
Publication Date: 30/11/2000
Category: Classic fiction (pre c 1945)
ISBN: 9780140447668
Other Formats
Paperback from £6.65
EPUB from £3.99
Paperback / softback from £9.95
PDF from £7.64
Free Home Delivery
on all orders
Pick up orders
from local bookshops
Reviews
Showing 1 - 4 of 4 reviews.
Review by ifjuly
16/06/2015
as good as it's touted as being. i love that it doesn't have a harmonious or typical ending for an adultery novel at all, but it's not way out there either...what makes it strange is the ho-hum of it. i honestly prefer this over the much more beloved and famous other versions of this story. cough, anna karenina, cough. yes, i must be an idiot...
Review by StantonK
16/06/2015
I was not all that familiar with either this book or Fontane before reading it, but I had a general idea that it was something like Madame Bovary. And, indeed, it is; but only to a point. It's as if Fontane wanted to be Flaubert, but just couldn't bear to be as cruel as all that to his characters. With some minor exceptions (.e.g Sidonie), Fontane gives every character at least a modicum of decency or some slight redemptive quality. Also interesting was the structure of the novel itself. Although often referred to solely as a realist work, Fontane here takes a great deal of liberty with time and setting, often eliding supposedly essential details and placing gaps of years between scenes. By doing so, Fontane gives the work both a more episodic and elliptical form, which I enjoyed immensely, but I can see how this can bother other readers. My main complaint had to do with the nature of the dialog, especially Effie's: I usually blamed the narrator, but after a while, I wasn't so sure. I was, it should be noted, reading the 1967 translation, so perhaps in the most recent one, this is no longer a problem, but it did lessen some enjoyment of the book. But, all in all, a recommended work.
Review by annbury
16/06/2015
Beautifully unfolded story of a young woman's confining marriage, ill-considered affair, and the consequences unleashed when the affair becomes known. Tragic, but in the tones of a comedy of manners.
Review by stillatim
16/06/2015
Honestly, I read this because Thomas Mann said it was great. Not good, great. I hesitate to disagree with him, so I'm willing to consider translation issues as the problem. Maybe ejaculations like 'speaking of which' and 'by the way' and 'meanwhile' and so on are/were natural in late nineteenth century German? Maybe the dialogue is less stilted in its native tongue? Maybe the symbolism is less heavy handed than the translation makes it appear? <br/>Certainly the endless jackbooting of 'society' would have made more sense at the time the book was written; but it's hard for me to feel much anger at 'society' today. We could probably do with a bit more moral straitjacketing, let's be honest, and a little less you-are-a-unique-and-special-snowflake. You're not. Fontane is obviously a smart enough man not to fall for it too hard, which makes the book worthwhile. But compared to Madame Bovary... well, it's a bit clumsy, and I'd rather re-read Flaubert than re-read this.