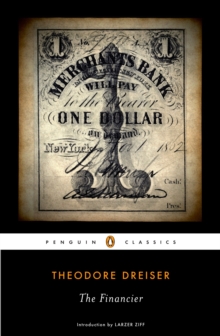 Description
A master of gritty naturalism, Theodore Dreiser explores the corruption of the American dream in The Financier.
Frank Cowperwood, a fiercely ambitious businessman, emerges as the very embodiment of greed as he relentlessly seeks satisfaction in wealth, women, and power.
As Cowperwood deals and double-deals, betrays and is in turn betrayed, his rise and fall come to represent the American success story stripped down to brutal realities-a struggle for spoils without conscience or pity.
Dreiser's 1912 classic remains an unsparing social critique as well as a devastating character study of one of the most unforgettable American businessmen in twentieth-century literature.
Information
Format: Paperback
Pages: 528 pages
Publisher: Penguin Books Ltd
Publication Date: 25/11/2008
ISBN: 9780143105541
Other Formats
Hardback from £24.95
Paperback from £12.99
EPUB from £1.07
eAudiobook MP3 from £26.84
Free Home Delivery
on all orders
Pick up orders
from local bookshops
Reviews
Showing 1 - 1 of 1 reviews.
Review by browner56
27/08/2015
An interesting trend in literary fiction is for some really good writers to base the plots of their novels on events surrounding crises or other calamities in the financial markets. From Tom Wolfe's <i>The Bonfire of the Vanities</i> and Don DeLillo's <i>Cosmopolis</i> to the more recent <i>A Week in December</i> by Sebastian Faulks and <i>Other People's Money</i> by Justin Cartwright, authors frequently use economic chaos in some way as a backdrop for their stories as well as a metaphor for the social critique they are trying to convey. Indeed, fiction of this ilk is often a thinly veiled morality tale, with the financial institution (e.g., bank, hedge fund) or businessperson (e.g., stockbroker, money manager) playing the role of the evil menace and would-be destroyer of all that is decent and good.With the stock market panics of 1987, 2001 and 2008 fresh in our collective memory, it would be easy to view this literary movement as a contemporary fashion. That would be wrong, however. Written more than a century ago, Theodore's Dreiser's <i>The Financier</i> tells the story of the rise, fall and resurrection of Frank Cowperwood, a man whose personal and professional machinations frame a gripping account of the tumultuous United States capital markets in the post-Civil War era, before the country itself was even 100 years old. Based on the true history of Charles Yerkes, a legendary trader and tycoon of the day, the novel is set in Philadelphia and describes Frank's comfortable but humble origins as well as the economic and emotional carnage he creates on the way to building his financial empire.Cowperwood's genius lies in his ability to recognize investment opportunities and then manipulate a financial system almost completely devoid of meaningful regulation to his own advantage. Starting with little more than a keen mind, a strong work ethic and a disregard for political and social norms, Frank creates wealth for himself in a very old-fashioned way—by borrowing lots of money and then making more right bets in the stock market than wrong ones. As is often the case when using such massive amounts of financial leverage, though, his downfall—which is truly steep—comes when a stock market crash caused by the Great Chicago Fire of 1871 leaves him without enough money to repay his loans. This chain of events leads to a brief prison term for embezzlement after which another market crash in 1873 provides him with the opportunity to once again use other people's misfortune (and money) to his benefit. The novel ends with Frank and his long-time mistress leaving their respective families for a fresh start in Chicago.<i>The Financier</i> is the first of Dreiser's <i>Trilogy of Desire</i> and is followed by <i>The Titan</i> and <i>The Stoic</i>, which continue the Yerkes/Cowperwood saga. This was not always an easy book to read; the author's so-called gritty naturalism style of prose led to what at times was a densely worded and overly detailed story that was decidedly old-fashioned in tone by modern standards. Nevertheless, I found the scope and imagination of the tale to be quite compelling and, from a historical perspective, it was also a book that taught me a lot about some crucial events that previously were little more than footnotes in my mind. To his credit, Dreiser neither glorifies nor demonizes Frank for the myriad choices he makes in his personal and business affairs, meaning that he offers the reader no easy answers as to what is right and what is wrong. Without question, this remains relevant fiction that deserves to be read for years to come.