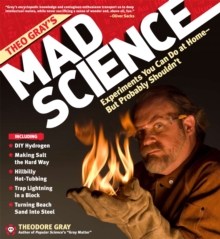 Theo Gray's Mad Science : Experiments You Can do at Home - But Probably Shouldn't
Hardback
Description
Author of the best-selling book The Elements Theodore Gray demonstrates essential scientific principles through thrilling daredevil experiments. 'What a magnificent book. It's gorgeous, playful, and draws you in.' ?Adam Savage, cohost of Mythbusters 'Theodore Gray?has attained a level of near superhuman geekery that the rest of us can only mutely admire.' ?Cecil Adams, 'TheStraight Dope' 'Gray's encyclopedic knowledge and contagious enthusiasm transport us to deep intellectual realms while never sacrificing a sense of wonder and, above all, fun.' ?Oliver Sacks, author of Awakenings, Musicophilia, and Uncle Tungsten: Memories of a Chemical BoyhoodIn Mad Science, Theodore Gray launches a toy rocket using the energy released from an Oreo cookie, ignites a phosphorus sun by suspending half a gram of white phosphorus in a globe filled with pure oxygen and creates a homemade hot tub by adding 500 pounds of quicklime to water.
These are just a few of the 54 experiments included in this astonishing book that demonstrates essential scientific principles in ways you were likely never exposed to in school.
Every experiment in Mad Science is accompanied by full-color photographs that provide a front-row seat to rarely seen chemical reactions and glorious subatomic activity.
To further enhance the hands-on experience, Gray includes step-by-step instructions for nearly every experiment.
Following all of the safety guidelines, readers can even re-create some of the experiments in the book.
Mad Science is the perfect book for anyone fascinated by all things chemical, electrical, or explosive, and who loves a vicarious thrill.
Information
Format: Hardback
Pages: 240 pages
Publisher: Black Dog & Leventhal Publishers Inc
Publication Date: 25/03/2009
ISBN: 9781579127916
Free Home Delivery
on all orders
Pick up orders
from local bookshops
Reviews
Showing 1 - 2 of 2 reviews.
Review by khrister
16/06/2015
Theo Gray's Mad Science is a brilliant book filled with fun experiments, some of which can be safely repeated at home by anyone able to follow instructions. Some require a bit more experience, and some of them should only be done by trained chemists in a lab (or a bunker, or in the middle of a large field).I really liked reading about all the experiments, it's obvious that Theo enjoys doing them.<br>
Review by hcubic
16/06/2015
My son gave me this book as a Christmas present in 2009, with the expectation that I would make it one of my Picks. The sentiment was amply appreciated, but I did not make it a Pick then because I didn't want to feel responsible for the maimings and deaths that could result from trying many of the "experiments" described. The author does have some warnings and precautions for the feckless yet fearless, but many of the procedures should not be attempted by the inexpert. None of them are real experiments, in that there are no variables to systematically vary, and no lessons to be learned. The spirit is much the same as the "Mythbusters" television series, whose stars wrote blurbs for the book. Some procedures are thankfully limited in their potential for harm by the fact that ordinary citizens can't easily obtain the requisite materials, such as potassium perchlorate, (thirty pounds of) mercury, a glassmaker's furnace, white phosphorus, 30% hydrogen peroxide, or a particle accelerator. Citizens can buy plenty of stuff that can get them into trouble, though, such as concentrated hydrochloric acid, and magnesium and aluminum powder, cylinders of compressed hydrogen and oxygen, regulators, and an H2-O2 torch. Like Gray's "The Elements" book, "Mad Science" has sumtuous photographs, making it even more seductive. A new paperback edition just came out, at about five bucks less than the cloth version that Matt gave me. Caveat emptor.