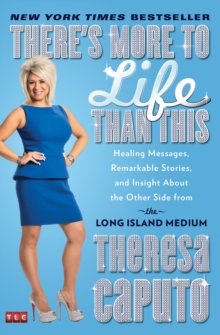 There's More to Life Than This : Healing Messages, Remarkable Stories, and Insight About the Other Side from the Long Island Medium
Paperback / softback
Description
The always funny, frank, and down-to-earth medium began communicating with Spirit at the age of four, but didn't fully accept her gift until she was thirty-three years old.
Since then she's used her extraordinary gift to help people heal from the loss of their loved ones.
A New York Times bestseller, There's More to Life Than This lends insight on how Theresa's mediumship works, what happens to your soul when you die, what Heaven is like, what the deceased want you to know, the importance of living a positive life, and the many roles that your family, friend, angels, and God play here and in the afterlife.
It also explores how to safely connect with Spirit so you can recognize when your loved ones are reaching out.
Through Theresa's personal story, compelling anecdotes, and fascinating client readings, she helps us understand that our deceased loved ones are safe and at peace and to appreciate the important lessons and touching messages that we're meant to embrace every day.