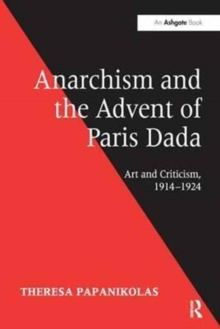 Anarchism and the Advent of Paris Dada : Art and Criticism, 1914-1924
Paperback / softback
Description
Anarchism and the Advent of Paris Dada sheds new light on Paris Dada's role in developing the anarchist and individualist philosophies that helped shape the cultural dialogue in France following the First World War.
Drawing on such surviving documentation as correspondence, criticism, periodicals, pamphlets, and manifestoes, this book argues that, contrary to received wisdom, Dada was driven by a vision of social change through radical cultural upheaval.
The first book-length study to interrogate the Paris Dadaists' complex and often contested position in the postwar groundswell of anarcho-individualism, Anarchism and the Advent of Paris Dada offers an unprecedented analysis of Paris Dada literature and art in relation to anarchism, and also revives a variety of little known anarcho-individualist texts and periodicals.
In doing so, it reveals the general ideological diversity of the postwar French avant-garde and identifies its anarchist concerns; in addition, it challenges the accepted paradigm that postwar cultural politics were monolithically nationalist.
By positioning Paris Dada in its anarchist context, this volume addresses a long-ignored lacuna in Dada scholarship and, more broadly, takes its place alongside the numerous studies that over the past two decades have problematized the politics of modern art, literature, and culture.
Information
Format:Paperback / softback
Pages:206 pages
Publisher:Taylor & Francis Ltd
Publication Date:09/09/2016
Category:
ISBN:9781138274402
Also by Theresa Papanikolas