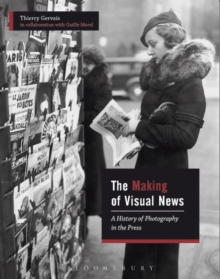 The Making of Visual News : A History of Photography in the Press
Paperback / softback
Description
The Making of Visual News sets out to show how photography has changed the way we read, report and sell the news.
It investigates how photographs first became news images at the end of the nineteenth century and how magazines in the USA, the UK, France and Germany have put them to use ever since.
Drawing on a wide selection of images, author Thierry Gervais (in collaboration with Gaelle Morel) analyses news photographs in the context of their original presentation in print.
Highly illustrated, the book contains 85 full colour magazine layouts and spreads, offering the reader a view of how photographs were and are used in print publications, including Life, Picture Post, the Berliner Illustrirte Zeitung and VU.
It examines how photographs were employed to attract new readers throughout the twentieth century, arguing that photography was the main tool by which news editors sought to communicate the news and attract a broader readership.
Looking beyond the roles of photographer and journalist, this study also highlights the contributions of picture editors and artistic directors; by commissioning photographs and incorporating images into magazine layouts, these figures played critical but often overlooked roles in the construction of visual news, even as they crafted unique styles for their publications.
Charting changes in technology and reportage, as well as broader social and political histories, The Making of Visual News offers new insight into the history of photojournalism, making this an essential resource for students and scholars of photojournalism and the history of photography, media and culture
Information
Format: Paperback / softback
Pages: 248 pages
Publisher: Taylor & Francis Ltd
Publication Date: 05/10/2017
Category: General arts
ISBN: 9781474295192