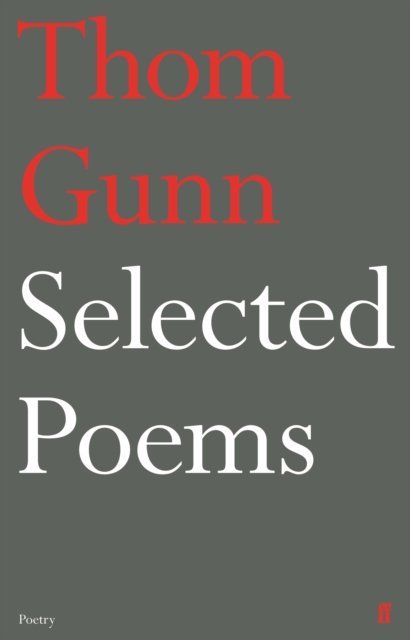 Selected Poems of Thom Gunn
Paperback / softback
Description
Thom Gunn has been described as 'one of the most singular and compelling poets in English during the past half-century' (TLS).
This Selected Poems, compiled by his friend Clive Wilmer and accompanied by insightful notes, is the first edition to represent the full arc of Gunn's inimitable career. 'The poetry of Thom Gunn was much admired in his lifetime, and at the same time often misunderstood and underestimated.
The scale of his achievement, and its uniqueness - a masterful Elizabethan lyric poet writing in the second half of the twentieth century - is just now becoming properly appreciated.
Anonymous in voice, even in the service of the most intimate subject matter, acute in observation, particularly the urban experience, with San Francisco the principal site, Gunn is not merely the poet of the druggy '60s in California or the plague of the AIDS epidemic, but of the deeper-running themes, shared by Shakespeare, Baudelaire, William Carlos Williams and all his greatest exemplars, of the artist's moral and imaginative engagement with the world as it actually is, in the broadest possible sense, not as contemporary fashion might have it be.
Which strikes me, who knew and loved the man and poet, as a kind of heroism.' August Kleinzahler'Thom Gunn smuggled the lyric tradition out of post-war Britain, and gave it cool, gracious renaissance in California.
His poetry evokes the wild life of the body with madrigal-like elegance.' Fiona Sampson'Gunn's work illustrates with unusual clarity some of the debates poetry in English has pursued in [the twentieth] century - form versus improvisation, diction versus talk, the American way versus the English tradition, even, at times, authenticity versus art.
To contain these contradictory impulses and . . . to have generated a body of work which anybody wanting to understand the period and identify some of its best poems will find essential reading - this is quite an achievement.' Sean O'Brien
Information
Format:Paperback / softback
Pages:336 pages
Publisher:Faber & Faber
Publication Date:18/03/2021
Category:
ISBN:9780571365081
Information
Format:Paperback / softback
Pages:336 pages
Publisher:Faber & Faber
Publication Date:18/03/2021
Category:
ISBN:9780571365081