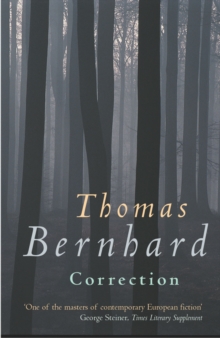 Description
Roithamer, a character based on Wittgenstein, has committed suicide having been driven to madness by his own frightening powers of pure thought.
We witness the gradual breakdown of a genius ceaselessly compelled to correct and refine his perceptions until the only logical conclusion is the negation of his own soul.
Information
Format: Paperback
Pages: 256 pages
Publisher: Vintage Publishing
Publication Date: 06/03/2003
ISBN: 9780099442547
Free Home Delivery
on all orders
Pick up orders
from local bookshops
Reviews
Showing 1 - 2 of 2 reviews.
Review by mattresslessness
16/06/2015
Bernhard thrives on obsessive monologues but this one is just <i>smothering</i>.
Review by RandyMetcalfe
10/11/2015
The suicide of Roithamer, the protagonist of Thomas Bernhard's <i>Correction</i>, prompts his unnamed friend, literary executor, and our unnamed narrator, to undertake a review of and possible future publication of Roithamer's important final work, "About Altensam and everything connected with Altensam, with special attention to the Cone." It is a work that Roithamer was correcting until the day he died, most frequently in the garret of his friend, Hoeller, a room that he used often during the planning and construction of a conal habitation for his, Roithamer's, beloved sister. The narrator is tasked with exhuming Roithamer's various writings and influence and sets about his work in the very garret that Roithamer himself used so assiduously. The novel, then, divides into two sections, the first being the narrator's attempts to come to grips with Roithamer's literary legacy, and the second being a concerted presentation (corrected?) of Roithamer's final and definitive work. Of course Roithamer has already undertaken the ultimate existential correction by erasing himself. But his action is not singular. Rather, according to Roithamer, it is the ever present choice before all those especially in his home country of Austria. Indeed he has already lost three uncles and a cousin to suicide and it is suggested that a statistically high number of others in the vicinity have followed suit. With his increasing agitation at the enormity of his task, it seems all too likely that our narrator may join Roithamer in his choice. However, that action is set beyond the limits of the novel. We are left, primarily, with Roithamer's deteriorating mental state and his screeching opposition to his family, especially his mother, and ultimately himself.Reading <i>Correction</i> is exhausting. Other than the division into two halves, the work contains no paragraph breaks, and the convoluted iterations within a sentence can easily stretch a single sentence beyond the length of a page. The mere level of concentration involved in reading such a work is daunting. I often wondered, instead, what it might be like to hear it read aloud in one continuous stream.Clearly Bernhard's methodology is particular, but is there more available here than method? That, I don't know. Even if I can imagine why someone might embark on writing in such a manner, I find it hard to imagine what readers the author could have thought he might attract. And yet this is undoubtedly a modernist masterpiece of its kind, and it certainly has spurred imitators though few could hope to reach Bernhard's level of self-loathing. Certainly worth reading in order to see why Bernhard is revered in some circles, but very hard to love.