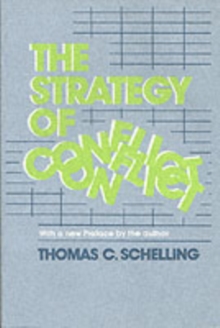 The Strategy of Conflict
Paperback
Description
A series of closely interrelated essays on game theory, this book deals with an area in which progress has been least satisfactory--the situations where there is a common interest as well as conflict between adversaries: negotiations, war and threats of war, criminal deterrence, extortion, tacit bargaining.
It proposes enlightening similarities between, for instance, maneuvering in limited war and in a traffic jam; deterring the Russians and one's own children; the modern strategy of terror and the ancient institution of hostages.
Information
Format: Paperback
Pages: 328 pages, 36 line illustrations
Publisher: Harvard University Press
Publication Date: 15/05/1981
Category: Political science & theory
ISBN: 9780674840317
Free Home Delivery
on all orders
Pick up orders
from local bookshops
Reviews
Showing 1 - 1 of 1 reviews.
Review by HadriantheBlind
16/06/2015
This is one of the most important books on Game Theory, and also, thankfully, one of the more accessible (certainly much more so than von Neumann's and Morgenstern's book). <br/><br/>His main theses are that not all games are zero-sum. That is, they are 'variable-sum', or dependent upon the strategies used. Not all actors are apparently rational, and some may act on seemingly irrational behavior in order to alter their opponent's responses. On the individual level, this could be the abusive lover threatening to kill themselves in order to keep you obedient to them. On the international level, this could be the North Koreans lobbing more missiles into the ocean to get more food. Decisions are interdependent upon the other's decisions.<br/><br/>Perceptions are also a vital component of decision making. Limiting information available to the opponent, or restricting their choices by other means, is a way to appropriately modify your own action. Strategy is not only a way of dealing with force, but also potential force. <br/><br/>In cooperative games, coordination is necessary. If communication is possible, then it would be best to aim for some point that you know that the other target might think of as being a valuable and important meeting point. These are now referred to as 'focal points', or, more recently, 'Schelling points'. <br/><br/>The idea of 'deterrence' has to have two necessary components: a conflict, and a common interest. Bargaining is a means by which both actors can find ways to benefit, but this becomes more difficult in areas of more open conflict, as the means of communication may become impeded. Therefore, a tacit communication or tacit bargaining - a scale of responses with which one communicates, up to and including armed force.<br/><br/>Some of these points may seem obvious now, fifty years later, but they seem even more important only because of how often they are overlooked. Schelling is important not entirely because of his mathematical analysis, but because how he also encompasses the human element in decision-making. The Cuban Missile Crisis, the ultimate 'game' of brinksmanship, coordination, and negotiation, only occurred two years after this book was published. Valuable reading for economists, politicians, and anybody who wants more than a passing knowledge of these games we play.