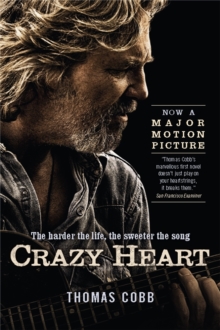 Description
At the age of fifty-seven, Bad Blake is on his last legs.
His weight, his ticker, his liver, even his pick-up truck are all giving him trouble.
A renowned songwriter and "picker" who hasn't recorded in five years, Bad now travels the countryside on gigs that take him mostly to motels and bowling alleys.
Enter Ms. Right. Can Bad stop living the life of a country-western song and tie a rope around his crazy heart?
Information
Format: Paperback
Pages: 256 pages
Publisher: Little, Brown Book Group
Publication Date: 01/02/2010
ISBN: 9781849015127
Free Home Delivery
on all orders
Pick up orders
from local bookshops
Reviews
Showing 1 - 2 of 2 reviews.
Review by joemmama
16/06/2015
Thomas Cobb is one terrific writer!Bad Blake is a country singer/songwriter on his way down the ladder of success.He is broken, down physically and emotionally. He drinks too much, smokes too much, has a bad ticker, has been through several wives and many lovers, working cheap bars, remembering the high life. When he is forced (for financial reasons) to open for the singer he mentored to success, he seems more broken than ever. When he meets a woman and her son, Bad wants to change. Can he?Cobb has written his story so well, you can smell the stale beer, and cigarette smoke as you read.His characters are so richly drawn, and multi -layered you feel every pain, emotional as well as physical. I can hardly wait to see the movie, since I pictured Jeff Bridges all the way through. (I had my own head movie)You just have to read this book. Even if you do not want to see the movie, this book is so good, I highly recommend it.I received this from Harper Perennial. Thank you so much, it was wonderful!
Review by Polaris-
16/06/2015
I hadn't really planned on reading this when I did. Yes, Thomas Cobb's novel was on my seemingly endless 'to be read' list as soon as I saw the "based on a novel by..." in the credits rolling at the end of the terrific film adaptation, but I don't own a copy. I chanced upon it when browsing the audiobook shelves in my local library and, noticing that it was narrated by the author, thought it would make an excellent accompaniment to the rush hour commute. (I guess that Jeff Bridges wasn't available!)Audiobooks aren't usually narrated by their authors so I thought that would be interesting as well, after all, nobody should really get the phrasing and timing as right as the person who created those words, right? Well, at first I was conscious of my own mind repeating over and over "...he's not Jeff Bridges, he's not Jeff Bridges...". Bridges plays the story's protagonist Otis 'Bad' Blake in the film, and very deservedly won the 2009 American Academy award for Best Actor. Bridges is also one of my favourite actors anyway, and I really loved the film, so it was always gonna be a tough comparison to measure up to...Bad Blake is a tired and aging Country musician - "a singer and a picker" - whose star has been steadily fading for quite a few years now. He's been reduced to hitting the road out of his home town of Houston to cover the west's dive bars, bowling alleys, and assorted ropey old joints to make a living. He's become used to playing with sub-standard pick-up bands and sleeping off the night before through the air-conditioned motel room mornings. His trusty old van has seen better days, his agent posts meagre cash advances in towns 2 days away, and with four failed marriages behind him, there's nobody waiting for him back at home. Bad is out of shape and out of condition, and he is an unreformed alcoholic. I love the character that Thomas Cobb created. He feels real. He has a voice that you want to listen to. Yes he can be curt on occasion, and does feel a bit sorry for himself, but he's basically a good guy who is looking back on a life in the business with more than a few regrets. It doesn't have to be the music business, but I like writers who can create such authentic characters. People with their fair share of flaws, people with a bit of grit.This is on one level a touching love story. While gigging through Sante Fe, Bad is interviewed for the local paper by Jean Craddock - a thirty-something single mum of 4 year old Bud. Jean, cautious and understandably guarded at first, eventually falls for the undeniable charm that Bad still has. But, as ever in life, things are far from straightforward. Bad has a 24 year old son of his own that he's not seen since he was about little Bud's age - Jean persuades him to consider reaching out. Bad has a connection or two with the press in Houston and suggests Jean come over to visit and check her options... In the background all the while Bad suffers what he feels is the indignity of needing to sell song compositions to his one time sideman Tommy Sweet - now a big stadium filling star performer. But Tommy hasn't written a hit record of his own for a while, and needs Bad's magic touch when it comes to penning a chart-topper. Bad on the other hand hasn't had a record of any description for many years now and is practically pleading with Tommy , through very gritted teeth, to commit to an album of duets that could resurrect his career. He really needs it. Laid up injured following a road accident caused by not enough sleep, and inspired by his muse Jean, Bad writes two soulful songs that have 'hit' written all over them - "She's Gonna Need Someone To Walk To" and "Is This Gonna Hurt Again?". Through all this there is Bad's obvious dependence on drinking.Everything is thrown into sharp relief when Jean and Bud finally come to visit Bad over in Houston. Bad's been preparing the ground for weeks... There follows some experiences there that illuminate things once and for all, for all concerned, and the story of Crazy Heart twists and turns a few times before meeting its moving and poignant ending.Obviously the book has several chapters and scenes in it that didn't make it to the film adaptation. There are frequent flashback scenes of Bad's past - days on the road as a young man, as a boy growing up in Judy, Indiana, his time as a famous star of Country when he was rich and gave away Cadillacs to strangers, his marriages - especially his second to the mother of his son Stephen. All of which go some way to considerably building the life of Bad Blake in the reader's mind. Cobb's story is essentially a doomed love story of an alcoholic. It is not really a story about Country music per se, but it is about people and relationships and lives. That though of course, would be what Country music really is anyway - Bad himself would certainly have it that way, he says more or less the same in his first interview with Jean in his clammy hotel room - so perhaps Cobb did write a Country novel after all? Where this book is really elevated above the level of the ordinarily 'decent' or 'accomplished' though, is with the author's superb realisation of Bad Blake. I've tried in a feeble way to highlight some of the flavour of that characterisation. It is what makes this a very memorable novel. I recommend it to all who love a good story, well told.