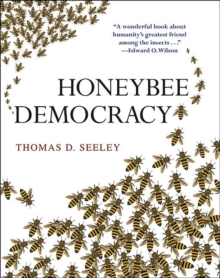 Honeybee Democracy
Hardback
Description
Honeybees make decisions collectively - and democratically.
Every year, faced with the life-or-death problem of choosing and traveling to a new home, honeybees stake everything on a process that includes collective fact-finding, vigorous debate, and consensus building.
In fact, as world-renowned animal behaviorist Thomas Seeley reveals, these incredible insects have much to teach us when it comes to collective wisdom and effective decision making.
A remarkable and richly illustrated account of scientific discovery, "Honeybee Democracy" brings together, for the first time, decades of Seeley's pioneering research to tell the amazing story of house hunting and democratic debate among the honeybees.
In the late spring and early summer, as a bee colony becomes overcrowded, a third of the hive stays behind and rears a new queen, while a swarm of thousands departs with the old queen to produce a daughter colony.
Seeley describes how these bees evaluate potential nest sites, advertise their discoveries to one another, engage in open deliberation, choose a final site, and navigate together - as a swirling cloud of bees - to their new home. Seeley investigates how evolution has honed the decision-making methods of honeybees over millions of years, and he considers similarities between the ways that bee swarms and primate brains process information.
He concludes that what works well for bees can also work well for people: any decision-making group should consist of individuals with shared interests and mutual respect, a leader's influence should be minimized, debate should be relied upon, diverse solutions should be sought, and the majority should be counted on for a dependable resolution.
An impressive exploration of animal behavior, "Honeybee Democracy" shows that decision-making groups, whether honeybee or human, can be smarter than even the smartest individuals in them.
Information
Format: Hardback
Pages: 280 pages, 30 color illus. 30 halftones. 26 line illus. 1 table.
Publisher: Princeton University Press
Publication Date: 07/09/2010
Category: Popular science
ISBN: 9780691147215
Free Home Delivery
on all orders
Pick up orders
from local bookshops
Reviews
Showing 1 - 2 of 2 reviews.
Review by VisibleGhost
16/06/2015
First things first. If you are a beekeeper looking for better yields or tips on bee husbandry then this is probably not the book for you. It is a treatise on how bees find new homes after they swarm, that is leave their current home. Usually two thirds of bees leave an old home when they swarm. The old hive is rarely completely abandoned. The bees that swarm leave without a destination in hand. They will hang on a branch, porch, or some other convenient site for a few days while the process of finding a permanent new place is decided on. The decision making of the swarm is the crux of the book. It is fascinating process that takes from one to two to five days on average. If you come upon a swarm of bees in the open hanging from something, don't panic, they will move on rather quickly. As much as the book is about bees, it is just as much about experiments. The author has spent decades studying and experimenting with bees. I did blanch a bit from some of the early experiments that killed many many bees. Over the years the experiments built up knowledge that lead to even more sophisticated ones. The culmination of observations on the swarms led to intriguing insights into the hives' decision making on where to live and then how to guide the swarm there. The book is richly illustrated with photographs and charts that convey the information clearly. It's not quite a textbook but it's more than the conventional non-fiction fare. If you have an interest in complexity, emergence, and communication networks this should be right up your alley.
Review by ljhliesl
16/06/2015
Fascinating. How bees find a home; how many bees in a swarm devote themselves to scouting, advertising, and guiding; how bees signal, by scent, sight, and behavior. Honey bees are endlessly interesting to me.