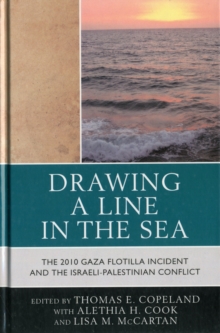 Drawing a Line in the Sea : The Gaza Flotilla Incident and the Israeli-Palestinian Conflict
Hardback
Description
The deadly May 31, 2010 Gaza flotilla incident has been misunderstood. This book explores the incident in more detail than mainstream media coverage has allowed-explaining the background, key players, and the incident itself-enriched by the authors having had unique access to senior Israeli officials in the immediate aftermath of the event.
The incident is a microcosm of the struggle between terrorism and democratic societies, and raises a number of legal, ethical, and strategic political issues in the contemporary Middle East.
Chapters address the political and military scenario preceding the incident, key state and non-state actors involved, military and ethical dimensions of the operation, and the aftermath in the media and politics.
The book provides thoughtful and readable analysis that is useful to policy makers and to the general public, and draws some important conclusions for the continuing conflict between democratic states and terrorists and their sponsors.
Information
Format:Hardback
Pages:210 pages
Publisher:Lexington Books
Publication Date:29/11/2011
Category:
ISBN:9780739167328