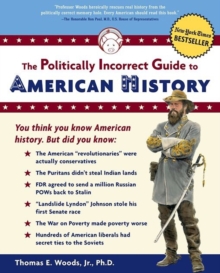 The Politically Incorrect Guide to American History
Paperback / softback
Description
"Will Rogers once said that the problem in America isn't so much what people don't know; the problem is what people think they know that just ain't so." -Professor Thomas E.
Woods Most Americans trust that their history professors and high school teachers will give students honest and accurate information.
In a shocking new book, The Politically Incorrect Guide to American History, historian Professor Thomas E.
Woods, Jr. makes it quite clear that liberal professors have misinformed our children for generations. Woods takes on the most controversial moments of American history and exposes how history books are merely a series of cliches drafted by academics who are heavily biased against God, democracy, patriotism, capitalism and most American family values. Woods takes aim at the high school and college textbooks that promote morally neutral, politically correct, multi-cultural distortions of our nation's past and provides the real history of our country's origins, founders, principles, successes, and failures. Woods reveals the truth behind gross misinterpretations including: MYTH: The First Amendment prohibits school prayer FACT: When federal courts strike down religious expression in the states, they are willfully perverting the policy of what the Framers of the First Amendment intended: complete federal nonintervention in religious issues MYTH: The New Deal created great prosperity FACT: Public-sector jobs "created" by New Deal spending programs either simply displaced or actually destroyed private-sector jobs. MYTH: What the Supreme Court says, goes FACT: Neither Thomas Jefferson nor the drafters of the Constitution envisioned the power the federal courts routinely exercise over the states and the people. From the real American "revolutionaries" to the reality of labor unions, The Politically Incorrect Guide to American History, is all you need for the truth about America-objective and unvarnished.
Information
Format: Paperback / softback
Pages: 270 pages
Publisher: Regnery Publishing Inc
Publication Date: 01/11/2004
Category: General & world history
ISBN: 9780895260475
Free Home Delivery
on all orders
Pick up orders
from local bookshops
Also in the The Politically Incorrect Guides series | View all