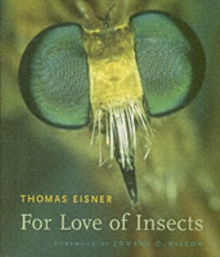 For Love of Insects
Paperback / softback
Description
Imagine beetles ejecting defensive sprays as hot as boiling water; female moths holding their mates for ransom; caterpillars disguising themselves as flowers by fastening petals to their bodies; termites emitting a viscous glue to rally fellow soldiers--and you will have entered an insect world once beyond imagining, a world observed and described down to its tiniest astonishing detail by Thomas Eisner.
The story of a lifetime of such minute explorations, For Love of Insects celebrates the small creatures that have emerged triumphant on the planet, the beneficiaries of extraordinary evolutionary inventiveness and unparalleled reproductive capacity. To understand the success of insects is to appreciate our own shortcomings, Eisner tells us, but never has a reckoning been such a pleasure.
Recounting exploits and discoveries in his lab at Cornell and in the field in Uruguay, Australia, Panama, Europe, and North America, Eisner time and again demonstrates how inquiry into the survival strategies of an insect leads to clarifications beyond the expected; insects are revealed as masters of achievement, forms of life worthy of study and respect from even the most recalcitrant entomophobe.
Filled with descriptions of his ingenious experiments and illustrated with photographs unmatched for their combination of scientific content and delicate beauty, Eisner's book makes readers participants in the grand adventure of discovery on a scale infinitesimally small, and infinitely surprising.
Information
Format: Paperback / softback
Pages: 464 pages, 431 color; 108 halftones, 48 line illustrations
Publisher: Harvard University Press
Publication Date: 04/10/2005
ISBN: 9780674018273
Free Home Delivery
on all orders
Pick up orders
from local bookshops