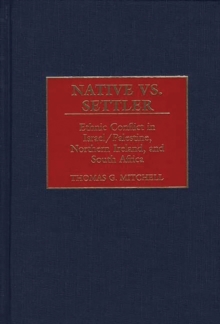 Native vs. Settler : Ethnic Conflict in Israel/Palestine, Northern Ireland, and South Africa
Hardback
Description
Settler-native conflicts in Northern Ireland, Israel/Palestine, and South Africa serve as excellent comparative cases as three areas linked to Britain where insurgencies occurred during roughly the same period.
Important factors considered are settler parties, settler mythology, the role of native fighters, settler terror, the role of liberal parties, and the conduct of the war by security forces.
Settlers and natives in each area share similar attitudes, liberal parties operate in similar fashions, and there are common explanations for the formation of splinter liberation groups.
However, according to Mitchell, the key difference between the cases lies in the behavior of British security forces in comparison to South African and Israeli forces. Mitchell's chapter on liberal parties includes an independent account of the Progressive Federal Party of South Africa, the official parliamentary opposition from 1977 to 1987, along with the first major published account of the Alliance Party in Northern Ireland.
His study of splinter group formation contains the first major account since 1964 of the Pan-Africanist Party of Azania, including its insurgency campaign in the 1980s and 1990s.
Mitchell also contrasts behavior among the Inkatha Party and Labour Party in South Africa with the Social Democrat and Labour Party in Northern Ireland.
Information
Format: Hardback
Pages: 264 pages
Publisher: ABC-CLIO
Publication Date: 30/08/2000
Category: Colonialism & imperialism
ISBN: 9780313313578
Free Home Delivery
on all orders
Pick up orders
from local bookshops