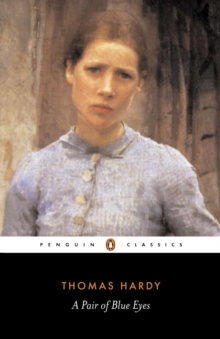 A Pair of Blue Eyes
Paperback
Description
When Elfrise Swanston meets Stephen Smith she is attracted to his handsome face, gentle bearing and the sense of mystery which surrounds him. Although distressed to find that the mystery consists only in the humbleness of his origins, she remains true to their youthful vows. But societal pressures, and the advent of the superior Henry Knight, eventually displace her affections. Knight, however, proves to be an uncompromising moralist who, obsessed with fears about Elfride's sexual past, destroys her happiness.Writing of the struggle between classes and sexes, Hardy drew heavily on his own relationships, and in the introduction, Pamela Dalziel discovers fascinating parallels between Hardy's life and his art.
Other Formats
Paperback from £2.50
EPUB from £1.94
Paperback / softback from £7.95
Hardback from £22.09
PDF from £1.94
Free Home Delivery
on all orders
Pick up orders
from local bookshops
Reviews
Showing 1 - 2 of 2 reviews.
Review by LyzzyBee
16/06/2015
KindleMelodramatic and gripping, but we're also now coming into Hardy's full powers - characters' lives are constrained by the boundaries and flaws of their personalities; Fate deals some heavy blows, and the Pathetic Fallacy (landscape and particularly weather echoing characters' emotions and experiences) for which Hardy is famous comes into play.As Elfride falls in love with two very different men, and tries to manage her emotional life, we have more rounded characters, and the chorus of locals is more well integrated into the plot and throws light and shade onto it rather than being inserted and being a bit irritating. Some hilarious and nail-biting moments as well as some extremely charming ones. I very much enjoyed reading this - I think for the first time.Reading it on the Kindle was a bit annoying, in that it's part of a collection, so I didn't know how far through the book I was: apparently, this matters to me!
Review by hazysaffron
16/06/2015
A story about the perils of love and the social norms of the Victorian Era. I started out hating Elfride and ended up sympathizing with her. I kept hoping she would end up with Knight and that the both of them would proverbially stick the knife in Stephen's heart. It was so sad how things actually turned out. I ended up hating Stephen.