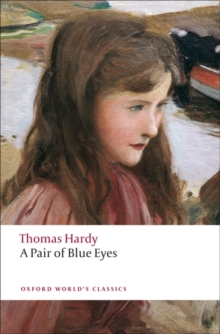 A Pair of Blue Eyes
Paperback
Description
'Elfride Swancourt was a girl whose emotions lay very near the surface.' Elfride is the daughter of the Rector of Endelstow, a remote sea-swept parish in Cornwall based on St Juliot, where Hardy began the book during the first days of his courtship of his first wife Emma.
Blue-eyed and high-spirited, Elfride has little experience of the world beyond, and becomes entangled with two men: the boyish architect, Stephen Smith, and the older literary man, Henry Knight. The former friends become rivals, and Elfride faces an agonizing choice.
Written at a crucial time in Hardy's life, A Pair of Blue Eyes expresses more directly than any of his novels the events and social forces that made him the writer he was. Elfride's dilemma mirrors the difficult decision Hardy himself had to make with this novel: to pursue the profession of architecture, where he was established, or literature, where he had yet to make his name?
ABOUT THE SERIES: For over 100 years Oxford World's Classics has made available the widest range of literature from around the globe. Each affordable volume reflects Oxford's commitment to scholarship, providing the most accurate text plus a wealth of other valuable features, including expert introductions by leading authorities, helpful notes to clarify the text, up-to-date bibliographies for further study, and much more.
Information
Format: Paperback
Pages: 432 pages, 2 maps
Publisher: Oxford University Press
Publication Date: 29/01/2009
Category: Classic fiction (pre c 1945)
ISBN: 9780199538492
Other Formats
Paperback from £2.50
EPUB from £1.94
Paperback / softback from £7.95
Hardback from £22.09
PDF from £1.94
Free Home Delivery
on all orders
Pick up orders
from local bookshops
Reviews
Showing 1 - 5 of 5 reviews.
Review by helen295
16/06/2015
I'm loving Thomas Hardy more and more with every book of his that I read. A Pair of Blue Eyes was one of his earliest books, originally serialised in Tinsley's Magazine from September 1872 to July 1873. Although this is not generally noted as being one of his better novels and is certainly one of his least well known, there was something about it that appealed to me - and I would even say that of all the classics I've read so far this year, this might be my favourite.A Pair of Blue Eyes is the story of Elfride Swancourt, a vicar's daughter living in a remote corner of England, who is forced to choose between two very different men. One of these, Stephen Smith, is a young architect whom she meets when he is sent by his employer to survey the church buildings. At first, the vicar approves of Stephen and encourages his daughter to spend time with him. It soon emerges, however, that Stephen has been hiding an important secret from the Swancourts; something that could put his relationship with Elfride in jeopardy. Later in the book, another man arrives at Endelstow Vicarage - Henry Knight, an essayist and reviewer from London - and Elfride has to make a difficult decision.As you might expect with this being a Hardy book, nothing goes smoothly for any of the characters. I would describe A Pair of Blue Eyes as being similar in some ways to the later Tess of the d'Urbervilles, though not as dark and bleak - and not quite as tragic either.The descriptions of scenery in this book are stunningly beautiful and bring the setting vividly to life. If you're familiar with Hardy you'll know that he sets most of his works in the fictional region of Wessex in the southwest of England. This story actually takes place in Off-Wessex or Lyonesse, which equates to Cornwall. I had no problem at all in picturing the lonely vicarage, the windswept hills, and the dark cliffs towering over the sea below. Speaking of cliffs, it is thought that the term 'cliffhanger' originates from a scene in this book, though I'm not going to say any more about it than that!Another interesting aspect of this book is that it's loosely based on Hardy's relationship with his first wife, Emma Gifford, though unfortunately I don't know enough about Hardy to have picked up on all the allusions and references to events in his own life.I found A Pair of Blue Eyes very easy to read. I thought the pacing and flow of the story were perfect and the pages flew by in a weekend. It's so sad that this book has been ignored and underrated to the point where, until not long ago, I hadn't even heard of it. Maybe it won't appeal to everyone and it might not be the best introduction to his work, but I loved it and would highly recommend it to all Hardy fans.
Review by Luli81
16/06/2015
This is a novel I would highly recommend to everybody, not only to Hardy's fans. The story is so nicely unfold and detailed that you can almost feel the wind in that spellbinding cliff scene. This is a simple story, don't expect great literary references or witty remarks. But it is told with so much gentleness and the characters are very well portrayed and developed. Elfride, though, is not as the other Hardy's heroines, she is young, gullible and has grown up protected by her father. I thought she was too innocent and easily impressed and lacked resolve and character. But what can you expect from a barely 18 year old who hasn't been shown to the world? She is not to blame...Stephen, I like immensely. He's got but a true heart through all the story, he is consistent in his love and protects Elfride when the time comes even if it breaks his heart.Mr. Knight. He is a complicated character but I found him fascinating. The initial passages where he meets Elfride are funny and they seem so natural you find yourself falling in love with him too.You've got the three key pieces for a tearing love triangle, where there's no good or bad characters, just love and the unfairness of life.Though written well before the famous "Tess of the D'Urbervilles", the story contains many similarities to his best known masterpiece. The moral issues regarding the treatment of women in the late eighteenth century , their unconscious power over men and the struggle to overcome social backgrounds are present in this story.A piece not to be missed and treated unjustly because it hasn't been noticed as it deserves.
Review by Renz0808
16/06/2015
This novel centers on Elfride Swancourt a beautiful young woman with the "blue eyes" that the book alludes to. When she meets a young aspiring architect who is socially inferior but ambitious with potential as he gets older, Stephen Smith she finds that she enjoys the attentions that he gives her and she feels that she is falling in love with him and commits herself to marry him. But when her father finds out about Stephen's humble background he demands that she never see him again. Stephen leaves Elfride to make his fortune in India and Elfride meets an older more established, intelligent respectable man, Henry Knight, which forces her to look inside herself and determine what her true feelings are. She is torn between doing what is right and what her heart wants her to do. This is the second Hardy book that I have had the pleasure to read. The first was Far from the Maddening Crowd which is one of his later books and what most critics feel to be one of his masterpieces. A Pair of Blue Eyes is one of his earlier works and despite this I found myself really enjoying the plot. I was also interested to learn that this book was where the term "cliffhanger" originated from because in one of the scenes Henry Knight is literally left hanging from a cliff. As with most Hardy novels things do not always turn out how readers would wish it to and the ending is very sad but despite this I found it hard to put the book down. I enjoyed all of the character descriptions and his descriptions of the landscape are so accurate and detailed that it is easy to imagine you hanging from the cliff with Henry as well.
Review by gypsysmom
16/06/2015
Well, now we're getting into the Thomas Hardy that is known from his more famous novels like Tess of the D'Ubervilles. In this novel, first published in 1873, Elfride Swancourt, daughter of a clergyman, is wooed by a series of men. The title refers to Elfride's eyes described by Hardy on the first page:One point in her, however, you did notice: that was her eyes. In them was seen a sublimation of all of her; it was not necessary to look further: there she lived.These eyes were blue; blue as autumn distance--blue as the blue we see between the retreating mouldings of hills and woody slopes on a sunny September morning. A misty and shady blue, that had no beginning or surface, and was looked into rather than at.Elfride's first suitor was a local boy and the action between them occurs before the opening of the book. Elfride seems hardly to have noticed him but when he died soon after his grieving mother claimed he died of a broken heart.Her second suitor was Stephen Smith, an apprentice architect (as was Hardy) who is sent to study the tower of the church of which Mr. Swancourt is minister. Mr. Swancourt is quite taken by this young man and invites him to come back for his summer holidays. Stephen is already smitten with Elfride and so he agrees to do so. But although Stephen is now a professional he comes from humble beginnings. In fact his father is master mason on the estate next to the village where the Swancourts live. When he tells Mr. Swancourt this his suit for Elfride's hand is rejected because he comes from a lower class. Elfride and Stephen decide to be secretly married but, although they go away to London to do so, Elfride pulls out and they immediately return to her home. Stephen decides to go away to India to make his fortune so that he can be worthy of Elfride.In his absence his mentor, Harry Knight, sees Elfride and discovers that his cousin is her stepmother. He then goes to spend some vacation time with the family and falls in love with Elfride. Elfride forgets her promise to Stephen and is smitten with Knight. Knight thinks that Elfride has never been loved by anyone and that is her prime attraction for him. By bits and pieces he learns some of her previous history including her attempted elopement but he never learns that his acolyte, Stephen, was her previous lover. He rejects Elfride and leaves England for the continent.When Stephen and Knight meet after their respective returns to England they each realize they still love her and want to try to marry her. Unfortunately, Elfride has recently died and they have both lost her.I didn't much like Elfride whom Hardy portrays as a weak-willed and vain female. And Knight is not sympathetic either since he dominates Elfride and expects her to be unkissed and unwooed. Stephen, on the other hand, is quite sympathetic. Nothing he did caused the rift between him and Elfride. He refrained from telling Knight about their promise to each other when he could easily have done so. He was even nice to his parents. I guess it's not surprising that Hardy would paint Stephen thusly. Others have said that Stephen is an autobiographical figure so it figures that Hardy would treat him kindly.As always in Hardy's novels, the descriptions of the countryside are vivid. The sea plays a big part in the story and I fancied as I read this book I could hear waves crashing on the shore. The setting for this novel is a little outside of the usual realm of his books since it is on the Atlantic Ocean side of the south-west of England. Usually his books are set in the area he calls Wessex along the English Channel. So that setting really conveys the out of the way world that Elfride inhabits and to some extent explains her naivete.I'm really enjoying reading Hardy's books in the order they were written and seeing his evolvement as a writer.
Review by TheEditrix
27/01/2016
My first Hardy novel. . . my first venture into Wessex. I don't think it will be my last.<br/><br/>I've just this minute finished reading it, so excuse my rambling, fragmented "review".<br/><br/>-Beautifully written, and quite a fast, easy read for a 19th century novel, though there were a couple of slower points. However, in each instance the narrative quickly regained pace.<br/><br/>-Relatively brief yet very evocative descriptions of nature. <br/><br/>-VERY well-drawn characters, that truly come to life in the reader's imagination.<br/><br/>-Surely few authors can rival Hardy in instilling a sense of impending doom in the pages of their books! <br/><br/>I was torn as to whether to give this 3 or 4 stars. 4 stars for the writing and characters; 3 stars for the story. One aspect of the story in particular could hardly avoid being extremely frustrating for the modern reader <spoiler>(why couldn't Elfride have simply explained to Knight that <b>nothing happened</b> during her botched elopement with Stephen?!)</spoiler>, and everything inevitably ends in tragedy.<br/><br/>Nevertheless, I enjoyed reading this. I second the petition for Andrew Davies and the BBC to make this into a TV miniseries!!
Also in the Oxford World's Classics series | View all