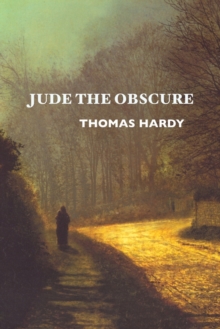 Jude the Obscure
Paperback / softback
Description
THOMAS HARDY: JUDE THE OBSCURE
Edited by Margaret Elvy
A new edition of Thomas Hardy's last novel Jude the Obscure 1895), a sister (or brother) book to Tess of the d'Urbervilles (1891), before the author turned to poetry and other forms of writing. Thomas Hardy attacks similar targets as he did in Tess: the family, politics, religion, marriage, education and sexuality. Hardy was on fire when he wrote Jude the Obscure - it is a very angry work.
Jude the Obscure contains far more polemic and philosophizing than Tess or any of Thomas Hardy's earlier novels. The preaching and polemic threatens to undo the narrative, which is nevertheless 'realist', like other Thomas Hardy fictions.
In Jude the Obscure, Thomas Hardy was stretching the novel to the limit, testing the boundaries of what is 'acceptable'. In Jude the Obscure, the things that say 'you shan't' are, variously, God, religion, education, circumstance, chance, nature, and marriage. All of the institutions and 'causes' reside inside the individual, which is what makes the problems they create so difficult to deal with for Sue and Jude. Patriarchy, culture and society are not in some 'out there' space, but in people. Hardy's thoughts on Jude the Obscure, as expressed in the Life and letters, include his desire for a novel about characters 'into whose souls the iron has entered'; a desire to make the story 'grimy' in order to heighten the contrast between the ideal life and the 'squalid real life'; the novel 'makes for morality', Hardy said; and ended up 'a mass of imperfections', a remark many artists have made of their work.
Includes illustrations, an introduction, bibliography and notes. Paperback.
Information
Format:Paperback / softback
Pages:420 pages, 31 Illustrations
Publisher:Crescent Moon Publishing
Publication Date:18/05/2020
Category:
ISBN:9781861711588
Other Formats
Paperback / softback from £2.50
Hardback from £11.55
EPUB from £1.39
eAudiobook MP3 from £8.00
CD-Audio from £14.15
Also in the Thomas Hardy Studies series