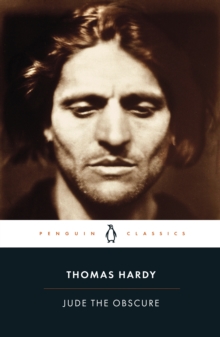 Jude the Obscure
Paperback
Description
Thomas Hardy's last novel, Jude the Obscure is a fearless exploration of the hypocrisy of Victorian society, edited with an introduction by Dennis Taylor in Penguin Classics. Jude Fawley's hopes of an education at Christminster university are dashed when he is trapped into marrying the wild, earthy Arabella, who later abandons him.
Moving to Christminster to work as a stonemason, Jude meets and falls in love with his cousin Sue Bridehead, a sensitive, freethinking 'New Woman'.
Refusing to marry merely for the sake of religious convention, Jude and Sue decide instead to live together, but they are shunned by society, and poverty soon threatens to ruin them.
Jude the Obscure, with its fearless and challenging exploration of class and sexual relationships, caused a public furore when it was first published and marked the end of Hardy's career as a novelist. This edition uses the unbowdlerized first-volume text of 1895, and includes a list for further reading, appendices and a glossary.
In his introduction, Dennis Taylor examines biblical allusions and the critique of religion in Jude the Obscure, and its critical reception that led Hardy to abandon novel writing. Thomas Hardy (1840-1928), born Higher Brockhampton, near Dorchester.
Though he saw himself primarily as a poet, Hardy was the author of some of the late eighteenth century's major novels: The Mayor of Casterbridge (1886), Tess of the D'Urbervilles (1891), Far from the Madding Crowd (1874), and Jude the Obscure (1895).
Amidst the controversy caused by Jude the Obscure, he turned to the poetry he had been writing all his life.
In the next thirty years he published over nine hundred poems and his epic drama in verse, The Dynasts. If you enjoyed Jude the Obscure, you might also like Thomas Hardy's Tess of the D'Urbervilles, also available in Penguin Classics. 'Visceral, passionate, anti-hypocrisy, anti-repression ...Hardy reaches into our wildest recesses' Evening Standard
Information
Format: Paperback
Pages: 528 pages, map
Publisher: Penguin Books Ltd
Publication Date: 07/05/1998
Category: Classic fiction (pre c 1945)
ISBN: 9780140435382
Other Formats
Paperback from £2.50
Hardback from £10.19
CD-Audio from £13.79
eAudiobook MP3 from £8.00
EPUB from £1.94
Paperback / softback from £17.99
Free Home Delivery
on all orders
Pick up orders
from local bookshops
Reviews
Showing 1 - 2 of 2 reviews.
Review by HagbardCeline
16/06/2015
This picture of an ordinary life in the 19th centuary was extremely contreversial when first published. The story concerns a rural man trying to better himself and become some more than he was born as. Despite his best efforts this leads to tragedy. A totally compelling tale beautifully set with much to say about class - many comparisions can stil be drawn with the present day.
Review by williamcostiganjr
16/06/2015
Encompasses Hardy's flaws and strengths. The narrator is phlegmatic and almost stilted, but somehow enjoyable to "listen" to. The plot has Hardy's hallmarks--the past coming back incessantly to haunt you, incredible coincidences, and forgotten individuals returning to the main character's life at key points.One key problem I had was that I don't think Jude's love for his cousin was ever properly explained. I could not figure out his infatuation with her.I don't know what it is about Hardy, because his plots are absurd, the writing does not seem particularly impressive, but somehow I find him fun and readable. This is the second one I've read by him, and would not hesitate to try another.