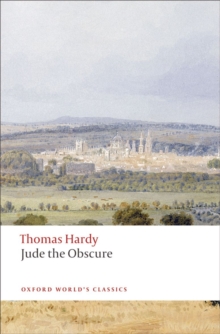 Jude the Obscure
Paperback
Description
'Wherefore is light given to him that is in misery, and life unto the bitter in soul?' Jude Fawley, poor and working-class, longs to study at the University of Christminster, but he is rebuffed, and trapped in a loveless marriage. He falls in love with his unconventional cousin Sue Bridehead, and their refusal to marry when free to do so confirms their rejection of and by the world around them. The shocking fate that overtakes them is an indictment of a rigid and uncaring society.
Hardy's last and most controversial novel, Jude the Obscure caused outrage when it was published in 1895. This is the first truly critical edition, taking account of the changes that Hardy made over twenty-five years. It includes a new chronology and bibliography and substantially revised notes.
ABOUT THE SERIES: For over 100 years Oxford World's Classics has made available the widest range of literature from around the globe. Each affordable volume reflects Oxford's commitment to scholarship, providing the most accurate text plus a wealth of other valuable features, including expert introductions by leading authorities, helpful notes to clarify the text, up-to-date bibliographies for further study, and much more.
Information
Format: Paperback
Pages: 464 pages, map
Publisher: Oxford University Press
Publication Date: 14/08/2008
Category: Classic fiction (pre c 1945)
ISBN: 9780199537020
Other Formats
Paperback from £2.50
Hardback from £10.19
CD-Audio from £13.79
eAudiobook MP3 from £8.00
EPUB from £1.94
Paperback / softback from £17.99
Free Home Delivery
on all orders
Pick up orders
from local bookshops
Reviews
Showing 1 - 5 of 5 reviews.
Review by Carmenere
16/06/2015
Jude Fawley is a kind, gentle and at times gullible young man. His is the story of a man's struggle to realize his dream by furthering his education to become a minister. "He considered that he might so mark out his coming years as to begin his ministry at the age of thirty - an age which much attracted him as being that of his exemplar when he first began to teach in Galilee." But Jude is torn between two women, the one he loves and the one to which he is married. Both are responsible for his complete downfall. He desires to do what is right in the eyes of the church and society but that is in direct contrast to the beliefs of his lover, Sue Bridehead, a woman 50 years ahead of her time. Through tragedy, Sue turns to the church while Jude turns away. Jude's desire to do right is now Sue's to the extent that she's become fanatical. Sue believes that in order to save her soul she must leave the man she loves.Hardy's last novel is long, tedious and wordy yet the love quadrangle needs to be rectified so one plods on. I have found Hardy to be a very forward thinking man who's many thoughts in this book have come to fruition. He delves into subject matter that was, no doubt, shocking for his time. I am certainly happy to have read Jude the Obscure and thought it a fascinating study of humanity in the late 19th century but it's certainly not for everyone. If you have enjoyed Hardy in the past and know what to expect from him I would recommend this one.
Review by pallavi11
16/06/2015
Jude the Obscure is Hardy's masterpiece. As in, the work an apprentice submits to prove that he is now good enough become a master. There is no other way to read this polemic against church, marriage and higher education. It is coming-out-of-the-closet, showing-his-colours, rest-on-his-laurels masterpiece. And though it was recieved with more brickbats than laurels, he did rest on it, and never wrote any other novel after this. Once you read this book, you realize why. There was nothing more to say. He has said it all.And said it well. Not even once does this book drag, there are no paragraphs spanning pages and pages. In a book which is meant to decry everything that was wrong- and indeed is still wrong- with society, there are no 4 page speeches to skip. Hardy's characters show, and do not tell. His working class, self taught hero never gets into Oxford, and his 'luminously' intelligent lover doesn't even think of it- you don't need speeches about stultified education after that. And Hardy manages to depict bad marriages between essentially good people, without demonizing anyone, and even Arabella is treated with more kindness that she can expect from a novel like this- which is about all that is fine in humanity, storybook fine, that is. Not practical, cheerful, cut-your-lossses-and-move-on there-is-a-life-to-be-lived fine, the way Arabella is.Sue Bridehead on the other hand, is certainly not practical, whatever else she might be. In fact, she is more than a character, she is a compilation of the reasons this novel exists. She is the mouthpiece for Hardy's views on all that is holy, she is the mirror he holds up to reflect society's hypocrisy, she is every bit a dream lover, and her impracticality is the only justification we get for the rather flimsy plot.This pretty lady almost certainly drives three men to early graves, but even then, I suppose that if you had to look for a lover in Victorian literature, she would be a much better option than, say, Elizabeth Bennett. One, ten minutes with her will perhaps be more interesting than any amount of time with Miss Elizabeth, who is actually not all that uninteresting herself, and two, she lives in a world where sex exists. I read somewhere that Sue is among literature's first feminists, and indeed, she is one of the greatest heroines of literature. She has the burden of carrying the novel on her slim shoulders, and she manages it with grace, though it proves too much for her in the end.
Review by stephxsu
16/06/2015
Wow, Thomas Hardy, I thought you were alright after Tess of the d'Ubervilles. A little depressing, perhaps, but not too badly written. However, Jude the Obscure is just...can I get my six hours back, please? Sue and Arabella are quite possibly the two worst females in the whole field of literature. They are pushy, flighty, and utterly selfish. Instead of pitying Jude, however, I just want to kick his butt for always being pushed around by them.My problem in this wasn't with the writing or the depressing attitude, but in the characters themselves. I simply cannot stand reading about purely selfish people who think they're blameless and actually the victim, much like I can't stand interacting with these people in real life.
Review by jayne_charles
16/06/2015
Typical Hardy - full of sex (minus the descriptions of course) and some desperate sadness. I like the way he doesn't find it necessary to have everyone living happily ever after by the end of the book.
Review by Luli81
16/06/2015
Duty or freedom? Marriage or passion? Faith or despair? A book full of contrasts, it marked a deep change at the time.
Also in the Oxford World's Classics series | View all