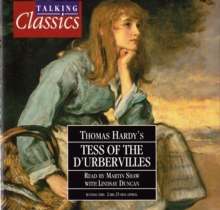 Tess Of The D'Urbervilles
eAudiobook MP3
Please note: eAudiobooks can only be purchased with a UK issued credit card.
Description
1. A QUESTION OF ANCESTRY. Most of the elements of the novel are set in place. From the moment Parson Tringham suggests to Tess's father that he may be descended from a noble family, Tess's life changes.
She meets Angel for the first time at the May dance, where, to her slight irritation, he dances with other girls, missing her out.
The section ends when Tess's negligence leads to the death of Price, the Durbeyfield horse - who is also the family's breadwinner.
Listen for the description of price's of death and see how elsewhere in the novel-most notably in track 9, at Sandbourne - the image of blood comes up again and again. 2. AT TRANTRIDGE. Tess is persuaded by her family to go to Trantridge to find what they believe to be another branch of the family.
Mrs Stoke d'Urberville offers work to Tess, who then encounters her seducer, Alec, for the first time.
Hardy takes pains to point out that Alec is not related to Tess at all- his family merely acquired the d'Urberville name - a tragic irony in view of what is about to happen. 3. MAIDEN NO MORE. The seduction marks the end of a sustained campaign by Alec.
The scene is full of power and pathos. Imagine 'the darkness and the silence' on The Chase that night with only the sound of Tess's breathing as she lies there asleep in white muslin, the birds roosting in the trees above them.
No wonder Hardy asks: 'where was her guardian angel?' 4.
AT TALBOTHAYS. Back at Marlott, Tess gives birth to the slickly Sorrow.
Pathetically, because of his illegitimacy, Tess has to christen him herself - watched by her sister 'Liza-Lu and her other brothers and sisters - before he dies.
Stifled at home and determined to make a new start, she takes a job as a milkmaid at Talbothays Dairy, where she meets Angel again. 5. HALCYON DAYS. Angel pursues Tess as earnestly as Alec did but in a more gentlemanly fashion.
He kisses her for the first time and then proposes marriage.
Aware of the effect knowledge of the past would have on him, Tess refuses.
But as the section closes, she gives in to her need for a chance of happiness and in spite of her misgiving, she accepts him. 6. REVELATIONS. This is the centrepiece of the novel. Tess tries unsuccessfully to tell Angel of her past before the wedding but Angel brushes her aside.
The marriage appears to be culmination of their love, but we are made aware that Tess's period of happiness is about to come to a close.
Only on their wedding night, after Angel has confessed to a short period of debauchery, can she tell her story.
The story is observed from Angel's point of view- and his reaction is made all the more sinister because we never hear it.
He reacts by stoking the fire - a meaning act - before reply almost in monotone.
He is unable to live with this revelation on her past, despite his own past sexual exploits. 7. FLASHBACK. Eight months later, Tess is penniless and is forced to search for Angel's parents for assistance.
On her way to Emminster, she finds Alec, now a preacher, addressing his throng in a country barn.
He is stunned to see her and genuinely shocked to hear of her situation.
He is also immediately attracted to her again. 8. 'MAN AND WIFE'. Alec abandons preaching and wins Tess back with memorable, if chilling, words: 'I was your master once!
I will be your master again'. Angel, now in South America, at last rethinks his position and decides to return to England.
Tess's father dies, leaving her and the Durbeyfield family homeless. 9. THE FINAL RECKONING. Angel discovers Tess living with Alec at Sandbourne as man and wife.
The image of blood reappears with the landlady see the red spot on her ceiling - the first sign that Tess has murdered Alec in the room above.
She and Angel are briefly reunited at Stonehenge before their discovery by the police.
She is tried and then hanged at Winchester Gaol as Angel, at Tess's bequest walks away with 'Liza-Lu
Information
Format:eAudiobook MP3
Run-time:2 hours 22 mins
File size:130.04MB
Publisher:The Copyright Group
Publication Date:03/06/2013
ISBN:9781780003573
Other Formats
Hardback from £8.65
Paperback / softback from £2.50
EPUB from £1.04
eAudiobook MP3 from £4.80
PDF from £4.54