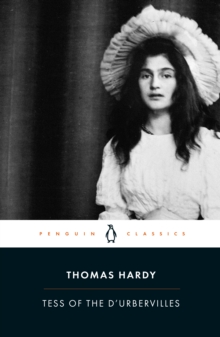 Tess of the d'Urbervilles
Paperback
Description
A heartaching portrayal of a woman faced by an impossible choice in the pursuit of happiness, Thomas Hardy's Tess of the D'Urbervilles is edited with notes by Tim Dolin and an introduction by Margaret R.
Higonnet in Penguin Classics.When Tess Durbeyfield is driven by family poverty to claim kinship with the wealthy D'Urbervilles and seek a portion of their family fortune, meeting her 'cousin' Alec proves to be her downfall.
A very different man, Angel Clare, seems to offer her love and salvation, but Tess must choose whether to reveal her past or remain silent in the hope of a peaceful future.
With its sensitive depiction of the wronged Tess and powerful criticism of social convention, Tess of the D'Urbervilles, subtitled 'A Pure Woman', is one of the most moving and poetic of Hardy's novels.Based on the three-volume first edition that shocked readers when first published in 1891, this edition includes as appendices: Hardy's Prefaces, the Landscapes of Tess, episodes originally censored from the Graphic periodical version and a selection of the Graphic illustrations.Thomas Hardy (1840-1928), born Higher Brockhampton, near Dorchester, originally trained as an architect before earning his living as a writer.
Though he saw himself primarily as a poet, Hardy was the author of some of the late eighteenth century's major novels: The Mayor of Casterbridge (1886), Tess of the D'Urbervilles (1891), Far from the Madding Crowd (1874), and Jude the Obscure (1895).
Amidst the controversy caused by Jude the Obscure, he turned to the poetry he had been writing all his life.
In the next thirty years he published over nine hundred poems and his epic drama in verse, The Dynasts.If you enjoyed Tess of the D'Urbervilles, you might like Daniel Defoe's Moll Flanders, also available in Penguin Classics.'The greatest tragic writer among the English novelists'Virginia Woolf
Information
Format: Paperback
Pages: 592 pages
Publisher: Penguin Books Ltd
Publication Date: 30/01/2003
Category: Classic fiction (pre c 1945)
ISBN: 9780141439594
Other Formats
EPUB from £0.99
Paperback from £2.50
CD-Audio from £12.15
Hardback from £10.19
Mixed media product from £12.66
Free Home Delivery
on all orders
Pick up orders
from local bookshops
Reviews
Showing 1 - 5 of 27 reviews.
Previous | Next
Review by jd234512
16/06/2015
Quite the phenomenal book. This was the first book that I have read by Thomas Hardy and it leads me to believe that his other stuff should be well worth my time to pick up. The story in this was phenomenal as well as the pace and way in which he carries the story along as far as the detail used. It was quite brilliant and very refreshing to read. It seems to go well with this time of year(fall), which was a fortunate coincidence.
Review by obsidianpeach
16/06/2015
Truthfully, I found the book really hard to take. It's a terribly depressing novel, and the idea that this is what happens to a 'pure' maiden is really disconcerting, especially since Hardy's intentions were for it to be a very realistic depiction of a woman. Seriously -- everything unfortunate that can happen to someone happens to Tess.
Review by Omrythea
16/06/2015
A classic I can actually get through. :)
Review by thekoolaidmom
16/06/2015
I have read this novel twice in my life. The first time as an impressionable teenage girl, the second as a thirty-something single mother. It was two different books! First read from a romantic, naive point of view, I thought sorrow and heartache was romantic. Reading it a second time from a realist, possibly cynical, point of view, I saw it as sad and universal of all women.In life we, as women, have all been Tess. We have our Angel Claire's, our idealized perfect mate, but he almost always turns out to be Alec, the reality of men. When going into relationships, we see our lover as light and pure, our inspiration, even our very breath. However, when reality sets in, though, he turns out to be every bit a man as an ex. He is self-serving, not altruistic. He disregards our needs and desires to pursue his own wants and lusts. And often we are powerless against him. One particular line comes to mind: Tess's response to one of Alec's advances is "Once a victim, always a victim! That's the law, isn't it?"It's a good book, and a classic view of life in the 19th century, particularly the injustice towards woman and lower classes. I would not reccommend it to under 18 readers, though.
Review by StoutHearted
16/06/2015
This is definitive Hardy: Verbose and pastoral, with highly-detailed descriptions of the scenery that make the setting as important a character as the characters themselves.Tess is all innocence, vulnerability, and well-meaning ignorance. Decended from a now-impoverished line of a noble family, she and her family are resigned to a life of hard work. Her life is thrown into upheveal when she becomes the pawn of two rich men: Alex, with bad intentions, and Angel, with good. No matter what their intentions, their meddling sends Tess to her downfall. She overcomes seduction, or rape, depending upon your interpretation of the scene, only to suffer the hypocrisy of the man she loves, who cannot forgive her for having the audacity to be forced upon. Classism clashes with the reality of the poor working woman's life. Injustice is a major theme, and Hardy spends much time on bringing home the point that Tess, though not a bad person, is constantly outcast as a sinner. If this all sounds familiar, think of its American counterpart ``The Scarlet Letter." But while Hester Prynne wears the symbol of her sin on her breast, Tess carries her shame inside of her, only to cause a furor when she confesses under the innocent delusion that Angel will forgive her. With Hester's sin exposed, society can gradually adjust ot the idea of her disturbing presence. Tess's sin confessed disrupts the illusions of her innocence, causing her to be rejected in an impulsive burst of hypocrisy, immaturity, and vengefulness. In fact, we can judge the morality of the characters by the way they treat Tess.The book is rife with symbolism, a dream for English majors bent on interpreation. Those simply reading for fun may be put off by Hardy's wordiness. He often says thirty words when five will do, but this is all part of his distinguishing style. If you're the type to get lost in words, Hardy is an excellent choice of an author.