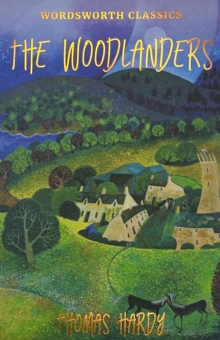 The Woodlanders
Paperback
Description
With an Introduction and Notes by Phillip Mallett, Senior Lecturer in English, University of St Andrews. Educated beyond her station, Grace Melbury returns to the woodland village of little Hintock and cannot marry her intended, Giles Winterborne.
Her alternative choice proves disastrous, and in a moving tale that has vibrant characters, many humorous moments and genuine pathos coupled with tragic irony, Hardy eschews a happy ending. With characteristic derision, he exposes the cruel indifference of the archaic legal system off his day, and shows the tragic consequences of untimely adherence to futile social and religious proprieties
Information
Format: Paperback
Pages: 336 pages
Publisher: Wordsworth Editions Ltd
Publication Date: 23/10/1995
Category: Classic fiction (pre c 1945)
ISBN: 9781853262937
Other Formats
Paperback from £2.50
Hardback from £8.59
EPUB from £0.99
PDF from £1.94
eAudiobook MP3 from £5.59
Free Home Delivery
on all orders
Pick up orders
from local bookshops
Reviews
Showing 1 - 2 of 2 reviews.
Review by eleanor_eader
16/06/2015
This book has been sitting, unread, on my shelf for over fifteen years. The reason? My unutterable loathing for <i>Tess of the D'Urvervilles</i>. <i>Jude the Obscure</i> is in my top five list of classics, my top ten list of favourite books of any genre. So why the reluctance to try another? Because I hated <i>Tess</i> just. That. Much. My resolution to read more missed classics this year saw me scouring my shelves for unread possibilities. I pretended not to see <i>The Woodlanders</i> sitting there on the first two passes, but on the third I mustered my courage and, having stared it down for a few minutes, addressed fifteen years of neglect.Grace Melbury is young, educated beyond her class, beautiful; her father is now unsure of the suitability of her intended, Giles Winterborne, despite his earlier bias towards the man. Grace is influenced, perhaps too much, by her father's views, and further swayed by the attention of the handsome doctor recently come to the area. What follows is a more rewarding look at one of Hardy's favourite themes, this passive reaction to coincidence and fate that one might call 'doom', than is suggested by similarities to <i>Tess</i>.As with all Hardy, it's worth wading into anything for the rural atmosphere and description alone, but I was relieved to find an engaging story with characters who, while –with the noticeable exception of Giles Winterborne – are not overly imbued with strength of character, are at least shown to think, if not always act, for themselves. It is a tragedy, yes, but it is also moving in other ways... and Hardy is cruel to his characters, but it is only by exposing real hardships of health, societal expectations, indifference from a church-drugged legal system; for all that, there is a hopeful renewal that is left to the reader to cheer or deplore at the end, and the tale is seeped in Hardy's love of nature... where Tess's fate made me grit my teeth that it had not descended a hundred pages sooner, the lives of the residents of Little Hintock inspired pity, hope and interest, to the very end.
Review by PilgrimJess
27/08/2015
"He Looked and smelt like Autumn's very brother, his face being sunburnt to wheat-colour, his eyes blue as corn-flowers, his sleeves and leggings dyed with fruit-stains, his hands clammy with the sweet juice of apples, his hat sprinkled with pips, and everywhere about him the sweet atmosphere of cider which at its first return each season has such an indescribable fascination for those who have been born and bred among the orchards."Unlike some of Hardy's other heroines Grace Melbury is not some exotic piece of womanhood who clashes against her neighbours and family instead she is rather unremarkable, ordinary and quite shallow.Instead she becomes a symbol of the social differences between the rural inhabitants of Wessex gleaning a livelihood from the New Forest and the burgeoning educated middle classes. She is the daughter of a locally well respected timber merchant who is sent away to school but was never really accepted there due to he lowly upbringing however on her return home she finds that she is also dissatisfied with her role within her home community. Thus she becomes torn between the educated but fickle doctor Edred Fitzpiers and her childhood sweetheart,the kind hearted and thoroughly respectable Giles Winterborne. Encouraged by her father she takes the ill-judged decision to marry Edred Fitzpiers with tragic consequences for Giles Winterborne in particular. The simple life of these country folk and their surroundings is beautifully written in typical Hardy style whilst the author deliberately avoids a happy twee ending. The minor characters are particularly well written. There is also certainly touches of rather humorous pathos and irony as well as a dig at the legal system of the time with its strict adherence to both social and religious norms. However,for me Hardy is in many respects just too subtle here and whilst the idea is sound I personally feel that he did not enlarge on these points enough.Lovers of good period literature will enjoy this but it not the most enjoyable of his works that I've read.
Also in the Wordsworth Classics series | View all