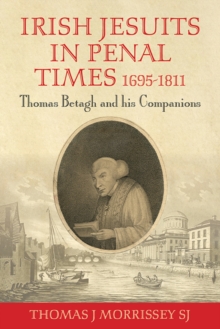 Irish Jesuits in Penal Times 1695-1811 : Thomas Betagh and his Companions
Paperback / softback
Description
This account of the Irish Jesuits from 1695 to 1811 is concerned with those who lived and worked in Dublin and, in particular, with a central figure, the quite remarkable educationalist and pastor, Thomas Betagh.
As we shall see, two other Jesuits also played a large part in the life of Betagh: John Austin, who was his teacher and subsequently a colleague, and James Philip Mulcaile, who was a friend, colleague and near contemporary.
The life and work of Betagh can only be understood in the context of his time: not only the history of Ireland in the eighteenth century, but also the political, cultural and religious developments in western Europe.
Information
Format: Paperback / softback
Pages: 200 pages
Publisher: Messenger Publications
Publication Date: 20/04/2020
Category: Church history
ISBN: 9781788121156