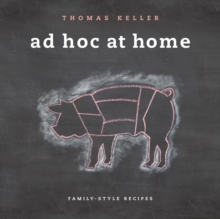 Description
Keller showcases dishes that can be made every day (and not just for special occasions).
Invaluable lessons, secrets, tips and tricks - as well as charming personal anecdotes - accompany recipes for such classics as the best fried chicken, beef Stroganoff, roasted spring leg of lamb, hamburger, the crispiest fried fish, chicken soup with dumplings, potato hash with bacon and melted onions, and superlative grilled cheese sandwiches, apple fritters, buttermilk biscuits, relishes and pickles, cherry pie - 200 recipes in all.
Information
Format: Hardback
Pages: 352 pages, 250 colour photographs
Publisher: Artisan
Publication Date: 07/10/2009
Category: National & regional cuisine
ISBN: 9781579653774
Other Formats
Hardback from £51.95
EPUB from £13.40
Free Home Delivery
on all orders
Pick up orders
from local bookshops
Reviews
Showing 1 - 3 of 3 reviews.
Review by woodsathome
16/06/2015
The size of Thomas Keller's Ad Hoc is a bit unwieldy (more like a coffee table book than a practical cookbook), but the recipes are to die for.This really is a famous chef's cookbook for the home cook. I especially loved the first section where he recommends what kitchen equipment you really need (and with the exception of the Vitamix the advice is practical.I second the previous reviewers recommendation of the fried chicken - try it with the creamed corn - you won't be disappointed.
Review by stephmo
16/06/2015
I've owned Thomas Keller's <i>French Laundry</i> cookbook for yeas - it's even autographed. I've never cooked a single recipe from it. I flip through the pages and sigh longingly, saddened because I do not have the years of culinary training, the professional kitchen or half the sources one needs to cook a few items contained in that tome. But it is beautiful.<i>ad hoc at home</i> to the rescue! This is the accessible Thomas Keller for the home cook. It's not a dumbed-down version of recipes he threw together for the home cook - these are the dishes that inspired ad hoc in Yountville, CA. Ad hoc - a daily tasting menu made up of dishes chefs want to cook for themselves. No complicated garnishes, no cutting-edge technologies, no need to find a restaurant that will part with 5 pounds of prime dry-aged beef so you can try to cook with it at home. Of course, this doesn't mean that you're looking at 20-minute-to-table recipes. The buttermilk fried chicken recipe requires overnight brining (the smell is unbelievable), bringing the meat up to room temperature slowly and monitoring two different oil temperatures. But you know what? This will be the best fried chicken you'll ever make. Until you have the slow-roasted veal shanks. Those are insanely simple, but require 7 hours of oven-roasting. Worth.Every.Single.Second.This is not to say that things are always simple. I live in a fairly large midwestern city, but some ingredient sourcing has been difficult. I'm already good with going to my various ethnic markets, so when he mentioned finding chicken feet for the chicken stock recipe, that was <i>easy</i>. Finding Piment d'Espelette just ended up a bust (exhausted Penzy's, Whole Foods, local grocers that have random everything, an indoor market that includes one stall where I can even get raw capers) - so I had to mail-order it. He offers some on-line sourcing in ad hoc, but his source for the spice wanted double what my source wanted for the same brand. In another case for a specific brand of duck legs, his sourcing doesn't offer to the general public and only sources to Northern California. On the upside, you will get to know your local merchants - so get ready to visit butchers, fish mongers, farmers markets and just about any other foodie store you found interesting if you really want to cook through this wonderful book.
Review by sturlington
16/06/2015
This is a beautiful cookbook filled with classic American dishes. The recipes, for the most part, are complicated, multi-step affairs, although there are notable exceptions. I usually like to cook simpler recipes, and if I do take more time with a recipe, I want it to be over-the-top delicious. I also don't like to cook with as much fat as many of these recipes call for.Most of the recipes I tried turned out beautifully and deliciously. I have found that the simpler recipes were the more successful ones. Cod en persillade, marinated feta and tarragon chicken all come to mind. Some of the more complicated dishes were absolutely scrumptious to eat, but would have to be reserved for special occasions because of the fat content, such as the hash, chocolate brownies and garlic bread.On the other hand, some recipes flopped, and were doubly disappointing because of the effort required to make them. Others were very complicated to make, and I have made simpler versions that were just as good, if not better. I'm thinking particularly of the blue cheese dressing and oven-dried tomatoes. These were the exception, rather than the rule, though.As a whole, I enjoy looking through this gorgeous cookbook and cooking from it occasionally. But I tend to reserve it for special-occasion cooking or when I am in the mood to spend a lot of time in the kitchen.