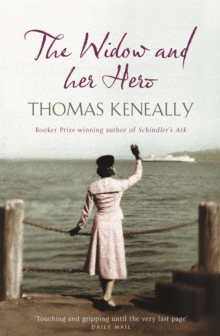 The Widow and Her Hero
Paperback
Description
In 1943, when Grace and Leo Waterhouse married in Australia, they were part of a young generation ready to sacrifice themselves to win the war, while being confident they would survive.
Sixty years on, as Grace recounts what happened to her doomed hero, she can say what she suspected then: that for many men, bravery is its own end.
The tale she tells is one of great love, lost innocence, a charismatic but unstable Irish commander, dashing undercover missions against the Japanese in Singapore, and - in her eyes - reckless, foolhardy exploits.
As fresh details continue to emerge, Grace is forced to keep revising her picture of what happened to Leo and his fellow commandoes - until she learns about the final piece in the jigsaw, and an ultimate betrayal.
As absorbing as it is thought-provoking, this timely novel poses unsettling questions about what drives men to battle and heroic deeds, and movingly conveys the life-long effect on those who survive them.
Information
Format: Paperback
Pages: 272 pages
Publisher: Hodder & Stoughton General Division
Publication Date: 24/01/2008
ISBN: 9780340825280
Free Home Delivery
on all orders
Pick up orders
from local bookshops
Reviews
Showing 1 - 3 of 3 reviews.
Review by canalrat
16/06/2015
A touching tale, a little sentimental even for Keneally. Grace tells the story of her husband's heroism and betrayal.
Review by Embejo
16/06/2015
A thinly fictionised version of the events of the ill fated Operation Rimau during WWII. It resulted in the capture, repeated torture and finally execution of several Australians at the hands of the Japanese in Singapore, just 4 weeks before the Japanese surrender. Enjoyable, again the book struck me as factual and historical rather than engaging me with emotion in the drama and making me identify with Grace. But, it was a good read and I finished it in just over a week, so not overly difficult reading.
Review by pokarekareana
16/06/2015
I wanted this book to be wonderful. Schindler's Ark was such an iconic piece of literature, and I was hoping that my second jaunt into Keneally's world would touch me in the same way. I must admit that I've studied the Holocaust in great depth and thus part of the attraction to Keneally's most famous work stems from that, but The Widow and Her Hero was sadly lacking. Parts of it were written in a fast-moving, captivating manner – I loved the parts about Grace's life as the girlfriend, wife and widow of an Australian seaman during the Second World War. I felt a connection to her touching but not overly sentimental story, and had Keneally kept it to that, he would have written a fine book that explored ideas of love and grief in a really interesting way. Sadly, the bit that really ruined the book for me were the parts that really defined Keneally's overall purpose – writing about the reality of war, of carrying out espionage far from home, and ultimately falling victim to a tyrannical enemy. Some parts were interesting, but I struggled to the end, especially with the uncomfortable meeting between one of the Japanese characters and Grace in Australia long after the war has ended. Some of Leo's colleagues came across as dull and I think I got them confused in the end. I would recommend this if you're interested in military history, especially in the Pacific front of World War Two, but that wasn't what I was looking for and as a result I didn't particularly enjoy large chunks of this book.