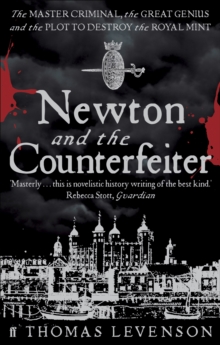 Newton and the Counterfeiter
Paperback
Description
Already famous throughout Europe for his theories of planetary motion and gravity, Isaac Newton decided to take on the job of running the Royal Mint. And there, Newton became drawn into a battle with William Chaloner, the most skilful of counterfeiters, a man who not only got away with faking His Majesty's coins (a crime that the law equated with treason), but was trying to take over the Mint itself.
But Chaloner had no idea who he was taking on. Newton pursued his enemy with the cold, implacable logic that he brought to his scientific research.
Set against the backdrop of early eighteenth-century London with its sewers running down the middle of the streets, its fetid rivers, its packed houses, smoke and fog, its industries and its great port, this dark tale of obsession and revenge transforms our image of Britain's greatest scientist.
Information
Format: Paperback
Pages: 336 pages
Publisher: Faber & Faber
Publication Date: 05/08/2010
Category: British & Irish history
ISBN: 9780571229932
Free Home Delivery
on all orders
Pick up orders
from local bookshops
Reviews
Showing 1 - 1 of 1 reviews.
Review by drmaf
27/08/2015
Newton was of course one of the greatest minds in human history. His discoveries about gravity and thermodynamics still influence our lives greatly today. But most would not know that in his later years, Newton took on a much more prosaic job, reforming England's shambolic currency and tracking down the coiners and counterfeiters who were threatening to bankrupt the country. As Warden of the Royal Mint, Newton brought his vast, cool intellect to the ruthless pursuit of counterfeiters, in particular, one William Chaloner, whose genius for creating fake currency and his cleverness in avoiding conviction bespoke a man with sufficient wit and intelligence to confound even one of the greatest intellects of all time. However, Newton ruthlessly and determinedly wore Chaloner down until eventually he had him in the dock facing a certain death sentence without a legal leg to stand on. This is a great story of sheer intellect versus criminal cunning, it rounds out the picture of Newton for those who can only visualize him as an absent-minded professor sitting under an apple tree.