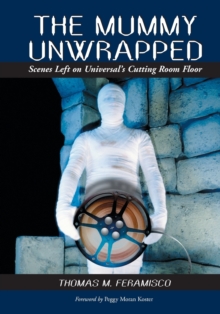 The Mummy Unwrapped : Scenes Left on Universal's Cutting Room Floor
Paperback / softback
Description
The mummy came to life in the 1940s out of Universal Pictures' need to produce quick turnaround, low budget ""B"" movies.
Universal produced ""The Mummy's Hand"", ""The Mummy's Tomb"", ""The Mummy's Ghost"", and ""The Mummy's Curse"" (originally ""The Mummy's Return"") and thus created a popular franchise that is still supported today by a following of loyal fans. (Universal was prompted to produce a remake of its Mummy films in 1999.)This book is devoted entirely to Universal's Mummy movies of the 1940s.
It reveals lost action and dialogue by analyzing scenes that were edited out days before ""The Mummy's Hand"" was released to theaters, treats readers to other dialogue that was filmed and then cut down to almost nothing before being included in the films, and compares and contrasts the original story of ""The Mummy's Return"" to the final shooting script of what was later renamed ""The Mummy's Curse"".
Each of the films has its own chapter, and chapters are also devoted to the actors who played the heroes, heroines, high priests, victims, and mummies in the films, and to the filmmakers who brought the mummies to life.
Information
Format: Paperback / softback
Pages: 240 pages, 30 photographs
Publisher: McFarland & Co Inc
Publication Date: 15/04/2008
Category: Films, cinema
ISBN: 9780786437344
Also by Thomas M. Feramisco