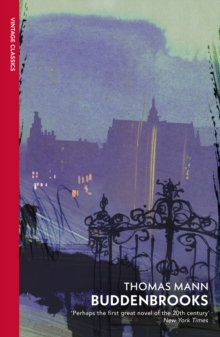 Description
Thomas Mann's first novel, Buddenbrooks, is drawn from his own life and experience.
Subtitled The Decline of a Family, his story of a prosperous Hanseatic merchant family and their gradual disintegration is also an extraordinary portrayal of the transition from the stable bourgeois life of the nineteenth century to a modern uncertainty.
Information
Format: Paperback
Pages: 624 pages
Publisher: Vintage Publishing
Publication Date: 29/07/1996
Category: Classic fiction (pre c 1945)
ISBN: 9780749386474
Other Formats
Hardback from £10.19
Paperback from £11.95
Free Home Delivery
on all orders
Pick up orders
from local bookshops
Reviews
Showing 1 - 1 of 1 reviews.
Review by Luli81
16/06/2015
"Life was harsh: and business, with its ruthless unsentimentality, was an epitome of life." (Buddenbrooks, p.363)Had I been told that an objective, even detached depiction of the downfall of a merchant family in a North-German town in the nineteenth century would shake me they way Buddenbrooks has shaken me, I wouldn't have believed it possible. But what I find most impacting is that even though I was prepared to witness the much forewarned decline of this family I was swept away completely all the same by the pragmatic but intense tone of the narrative which stirred unintended, troubled feelings in me.Told in an omniscient, impartial voice and taking for background the first symptoms of major social and economic changes in Germany on its way into 20th Century modernity and uncertainty, Mann opens the narration with an opulent banquet in 1835 where the three generation of Buddendbrooks are celebrating their social and economic prominence and future prospects. Mann describes their world in detail and masterly pictures the characters with all their hopes, fears and ambitions, all this in a brilliantly flowing language.The story mainly follows two of the children: Thomas, the crown prince who has been prepared to take over the firm and to become the future ruling man in the family, and his beautiful sister Antoine, a spoiled, naive creature with bourgeois airs but good-natured heart who will see her life expectations vanish and her dreams disappear as years go by.While Thomas embodies the vitality, strength and vigor of a prosperous, responsible merchant of the time, his hypochondriac, indolent brother Christian and eventually Thomas' introverted and frail son, Hanno, fail their merchant inheritance in allowing their artistic vocation to prevail over their duty to the firm, condemning the Buddenbrook name into oblivion.In this sense, Mann sets the tone for some themes in his forthcoming works, one of them being the refined and sophisticated artistic attitude opposed to the simple, healthy and pragmatic life of a merchant family, a poignant subject in this novel and one which could also have reminiscences of his own personal experience.Although Mann treats his characters lovingly he always keeps in an ironic distance which reminds the reader that the fate of the Buddenbrooks is a sealed one and that, like in life, eventual decay and ultimate death can't be prevented. And this natural cycle of ups and downs both of the firm and the family, for they are bound together, is precisely what makes possible that a naturalistic story such as this one could reach one's soul and fill it with wonder with its delicate and effortless language.In the end, nothing is left, no grand house, no flourishing firm, no prominent family. The Buddenbrooks sink back into meaninglessness. Only an old volume with the genealogy of the whole family remains, echo of a long gone world and the only proof of what once was and never will be again. But with the end comes freedom."Was not every human being a mistake and a blunder? Was he not in painful arrest from the hour of his birth? Prison, prison, bonds and limitations everywhere! The human being stares hopelessly through the barred window of his personality at the high walls of outward circumstances, till Death and calls him home to freedom!" (p.506)