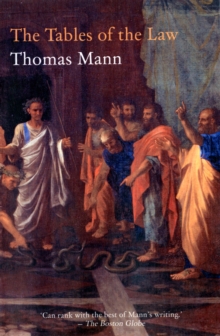 The Tables of the Law
Paperback / softback
Description
"The Tables of the Law" recounts the early life of Moses, his preparations for leading his people out of Egypt, the Exodus itself and the incidents at the oasis of Kadesh, as well as the engraving of the stone tables of the law at Sinai.
In Thomas Mann's ironic and incisive style, this story, the most dramatic and significant in the "Hebrew Bible", takes on a new, and at times witty, life and meaning.
He wrote himself that he wanted to bring this far and legendary figure close to the modern reader in an intimate, natural and convincing manner.
Like "Joseph and His Brothers", it represents Mann's art at his best.
His tale of the ethical founding and moulding of people sharply rebukes the Nazis for their intended destruction of the moral code set down in the "Ten Commandments", lending his famous irony and authorial license to this account of the shaping of the Jewish people.
Information
Format:Paperback / softback
Pages:113 pages
Publisher:Haus Publishing
Publication Date:14/06/2012
Category:
ISBN:9781907822568