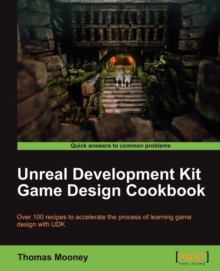 Unreal Development Kit Game Design Cookbook
Paperback / softback
Description
Written in cookbook style, this book offers many recipes to learn game design with UDK.
Each recipe contains step-by-step instructions followed by analysis of what was done in each task and other useful information.
The book is designed so that you can read it chapter by chapter, or you can look at the list of recipes and refer to them in no particular order.
This book is meant for game artists who are getting used to UDK but may feel the need for guidance on matters of implementation.
It also targets brave beginners who are struggling to find an all in one package for getting started with UDK, and want a ready to hand reference.
Level designers can use this book to gauge their understanding of the editor, check for specific problems, and discover gems they may not have come across before.
Information
Format: Paperback / softback
Pages: 544 pages
Publisher: Packt Publishing Limited
Publication Date: 22/02/2012
Category: Level design: games programming
ISBN: 9781849691802