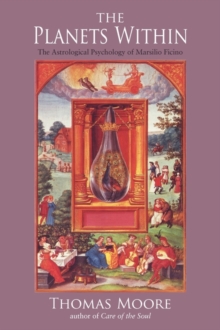 The Planets Within : The Astrological Psychology of Marsilio Ficino
Paperback
Description
The Planets Within asks us to return to antiquity with new eyes.
It centers on one of the most psychological movements of the prescientific age -- Renaissance Italy, where a group of 'inner Columbuses' charted territories that still give us today a much- needed sense of who we are and where we have come from, and the right routes to take toward fertile and unexplored places.
Chief among these masters of the interior life was Marsilio Ficino, presiding genius of the Florentine Academy, who taught that all things exist in soul and must be lived in its light.
This study of Ficino broadens and deepens our understanding of psyche, for Ficino was a doctor of soul, and his insights teach us the care and nurture of soul.
Moore takes as his guide Ficino's own fundamental tool -- imagination.
Respecting the integrity and autonomy of images, The Planets Within unfolds a poetics of soul in a kind of dialogue between the laconic remarks of Ficino and the need to give these remarks a life and context for our day.
Information
Format: Paperback
Pages: 228 pages
Publisher: SteinerBooks, Inc
Publication Date: 01/01/1990
ISBN: 9780940262287
Free Home Delivery
on all orders
Pick up orders
from local bookshops
Reviews
Showing 1 - 1 of 1 reviews.
Review by Poquette
16/06/2015
In many ways I am distinctly unqualified to review this book, which is by a psychiatrist and presumably is written with other psychiatrists and psychologists in mind. However, it is written in such a way as to appeal to anyone interested in psychology in general, archetypal psychology in particular, or even to those interested in Renaissance intellectual and art history, and beyond that, to aficionados of astrology, tarot cards and the like.Thomas Moore's book does two things: It analyzes Marsilio Ficino's <i>De vita coelitus comparanda</i>, or "How Life Should Be Arranged According to the Heavens," which Moore refers to simply as <i>The Planets</i>. And it brings Ficino's book into some kind of relationship with the practice of psychology today. Moore has focused on the school of archetypal psychology of which Jung is the most important modern representative and James Hillman is perhaps the most prominent contemporary proponent.My interest does not arise primarily from a psychological perspective, but rather because of the information presented about the prominence of the pagan gods in Renaissance art, literature and philosophy. For a number of reasons I am fascinated with this subject, and <i>The Planets Within</i> indirectly answers the underlying question: Why and how did pagan influences reach such a peak of importance in Renaissance Italy?The answer is that the collective frame of mind of Renaissance artists, writers and philosophers fell under the spell of newly reintroduced writings from Ancient Greece, much of which reflected Platonic, Neoplatonic and Hermetic ideas.Marsilio Ficino, who is almost unknown today, was perhaps the most influential philosopher of his age. It was Ficino who translated from Greek into Latin those first texts that arrived in Florence from Constantinople around 1438-39. It was Ficino who established a new academy in Florence modeled on Plato's academy. Ficino flourished under the sponsorship of the Medici family, and because of his relationship with them and their generosity in support of his academy, he effectively became tutor and intellectual mentor to the Florentine intelligentsia. Looking back with the 20/20 hindsight of the 21st century, it is apparent from what Thomas Moore tells us that Ficino functioned in some ways as a psychotherapist to his friends and students. His letters are full of helpful advice about right living and striving to make of one's life a work of art. <i>The Planets</i> is Ficino's treatise on using one's imagination to apply astrology to that end.Moore's book is divided in three parts. In the first part he defines the basic elements of Ficino's brand of psychology and attempts to draw comparisons and distinctions with the modern practice of psychology. He discusses how soul has been neglected since the Age of Enlightenment. He defines "soul" as "precisely that which makes us human." He equates it to some extent with the psyche. His main argument with post-Enlightenment attitudes is their insistence upon literalism at the expense of imagination. This is the same notion Patrick Harpur emphasized in <i>The Philosopher's Secret Fire: A History of the Imagination</i>. At the very foundation of Ficino's psychology is an emphasis on stimulating the imagination. He promotes the use of astrological influences to stimulate the imagination in warding off melancholy, anger and other unhelpful states of mind. Moore also agrees with Harpur that monotheism has caused many psychological problems for Western civilization. Moore is well aware that criticism of monotheism is a hard sell. He hastens to explain that neither he nor Ficino were actually promoting the <u>worship</u> of multiple gods. Not at all. What they are suggesting is that rather than worship or adoration of Venus and Luna and Mercury, that students learn enough about their attributes in order to see them as models to emulate. Of course, the behaviors of the Greek and Roman gods as reported in their collective myths are in many ways less than admirable. But these are not the manifestations that Ficino was promoting; rather, he was speaking in terms of the celestial attributes and influences of the planetary spheres. This is the subject of the second part of <i>The Planets Within</i>. Chapters on Sol, Venus, Mercury, Luna, Saturn, Jupiter and Mars describe the psychologically pertinent aspects of these "planets."Part III consists of one chapter entitled "The Well-Tempered Life" which attempts to sum all this up in the context of the medieval notions of music. This is too complicated to try to summarize here, but it may be enough to say that "the music of the spheres" takes on new meaning in the context of this book.What I got out of <i>The Planets Within</i> is an encouragement to cultivate the imagination by use of archetypal images of many sorts to stimulate ones state of mind and to encourage people to aspire to living as well and fully as possible. All in all, there is much that is interesting between the covers of this very readable and positive book. It provides deeper insights into not only the value of Jungian archetypes but also a new perspective on exactly what the Renaissance mentality was all about.