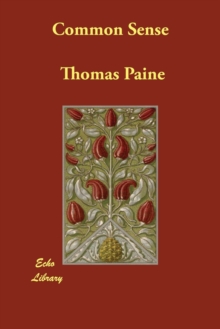 Common Sense
Paperback / softback
Description
Thomas Paine (1737-1809) was an English-born American political activist, philosopher, political theorist, and revolutionary.
He authored his two influential pamphlets Common Sense and The American Crisis at the start of the American Revolution, and helped inspire the patriots in 1776 to declare independence from Great Britain.
His ideas reflected Enlightenment-era ideals of transnational human rights.
In Common Sense, writtten in 1775-76, Paine advocates independence from Great Britain to people in the Thirteen Colonies.
Employing clear and persuasive prose, he marshaled moral and political arguments to encourage common people in the colonies to fight for egalitarian government.
One particularly distinctive idea he sets forth is his belief regarding the peaceful nature of republics, an early and strong conception of what would later become known as democratic peace theory.The pamphlet was published anonymously on 10 January 1776 and became an immediate sensation, and in proportion to the population of the colonies at that time (2.5 million) had the largest sale and circulation of any book published in American history.
The pamphlet is divided into four sections, and is reprinted from the new edition of February 1776 which also includes an Appendix together with an address to the Quakers.
Information
Format:Paperback / softback
Pages:48 pages
Publisher:Echo Library
Publication Date:27/10/2020
Category:
ISBN:9781847024725
Other Formats
Hardback from £8.25
EPUB from £1.71
Paperback / softback from £1.99